Ali Jarrahi, MD, MPH, a retired psychiatrist, has always felt committed to making a difference. He helped others through his profession, helped his three children meet their educational goals and chose to help medical science by designating funds to be used in his estate plan.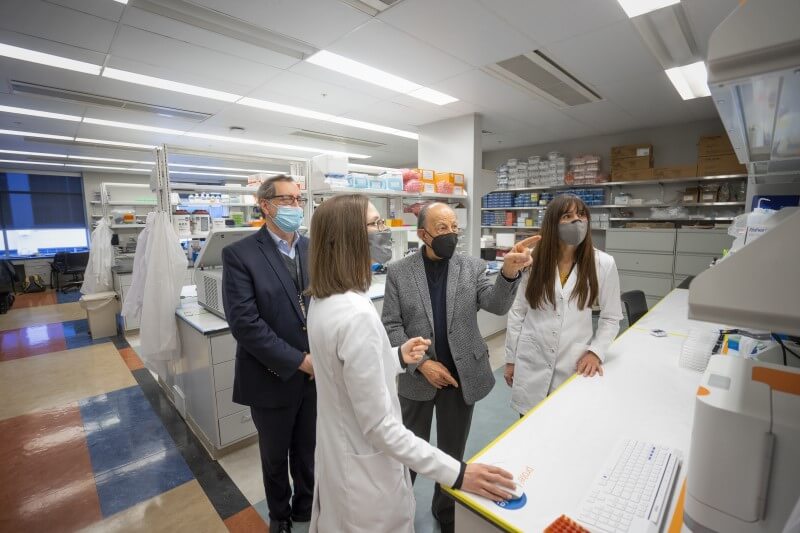 As Jarrahi reached his 80s, he decided he wanted to see more of the difference his charitable plans would make during his lifetime. He recently converted a charitable remainder trust he set up years ago into the new Jarrahi Family Endowed Research Scholars Fund in Geroscience Innovation at Wake Forest University School of Medicine. This change allows his funds to provide immediate impact.
"It's been a blessing to do," Jarrahi said. "This was $1 million, and who knows what we might find out? The success of research is not always just in the amount of money."
The fund supports early-career, research-intensive faculty focused on geroscience, which is the study of the biology of aging and aging-related diseases. An initial emphasis of Jarrahi's fund is on research into aging on a cellular level and Alzheimer's disease.
"Young researchers have a lot of ideas and a lot of enthusiasm, but not always the funds and resources they need," he said. "Getting grants is very hard. If we can fund some of these bright people and guide them, they might accomplish great things."
According to Jarrahi, some of the funds have already been used to recruit two young scientists, allowing him to see some early benefits from his gift.
"I believe this investment is at the right place, and I know it is going to be good," he said. "It will stay in place for a long time and there will be many benefits from it."
Jarrahi has enjoyed a long and successful career in psychiatry. After earning his medical degree from Tehran University of Medical Sciences, he completed internships and residencies at the University of Cincinnati and University of North Carolina at Chapel Hill, specializing in neuropsychiatry. He completed a master's in public health at NC Chapel Hill in 1969. He joined the School of Medicine at Wake Forest as a clinical faculty member in 1973, and although he participated in teaching medical students and psychiatric residents, he worked mostly in private practice until retiring in 2014.
Education and family have been lifelong priorities for Jarrahi. He and his wife, Parvin, have three daughters: Shiva J. Kincaid, MD '95, who earned her medical degree at Wake Forest University School of Medicine; Shaida Horner, JD, a Wake Forest University School of Law graduate; and Leila Jarrahi, PhD, a clinical psychologist. In addition to supporting his children's education, Jarrahi has established scholarships at Wake Forest and other universities.
"I always have tried to do the best I can for my kids, because I believe that would be the greatest investment anybody can do, to educate their children," he said.
Once that goal was fulfilled, he turned his interest toward benefiting society through his charitable plans. He worked with planned giving experts in Atrium Health Wake Forest Baptist's philanthropy and alumni relations office to set up the original charitable remainder trust, which was designated to support future work in aging and Alzheimer's disease at the School of Medicine. He worked with the same planned giving experts to convert the original trust into the new fund that is creating immediate impact.
"The enjoyment of giving is great, particularly if you can receive results that are gratifying, helping others through medicine and research," Jarrahi said. "I say if you want to do something by giving, do it yourself and do it while you can."