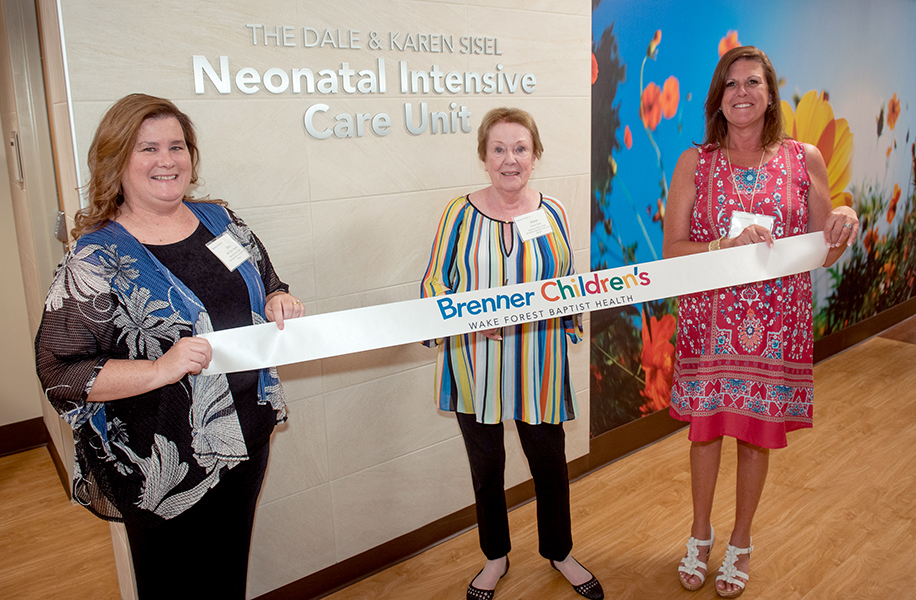 One of the most celebrated days in the history of Wake Forest Baptist Health unfolded this past June 25.
On that day, leaders from Wake Forest Baptist and Brenner Children's joined with donors and other members of the community to celebrate a 16-month project that has transformed medical care in the region. They unveiled the new Dale and Karen Sisel Neonatal Intensive Care Unit and The Birth Center, which made regular labor and delivery services available on the Wake Forest Baptist Medical Center campus for the first time in more than 40 years.
"We are thrilled to provide another location to deliver the newest members of our community," said Julie Ann Freischlag, MD, FACS, FRCS, ED (Hon), DFSVS, chief executive officer of Wake Forest Baptist Health and dean of the Wake Forest School of Medicine. "We have been caring for moms and delivering babies in Winston-Salem since 1923—that's 96 years' worth of knowledge and experience in labor and delivery, right here in the Triad."
In July 2018, Freischlag announced that work would begin on a new space for regular labor and delivery services to be paired with a new NICU, which was already underway. Just over a year later, she introduced the most modern and advanced facility of its kind in North Carolina.
The additions happened thanks to hard work and widespread support, including a $5 million gift from Winston-Salem resident Karen Sisel. The NICU was named in honor of her and her late husband Dale, a former executive with R.J. Reynolds Tobacco.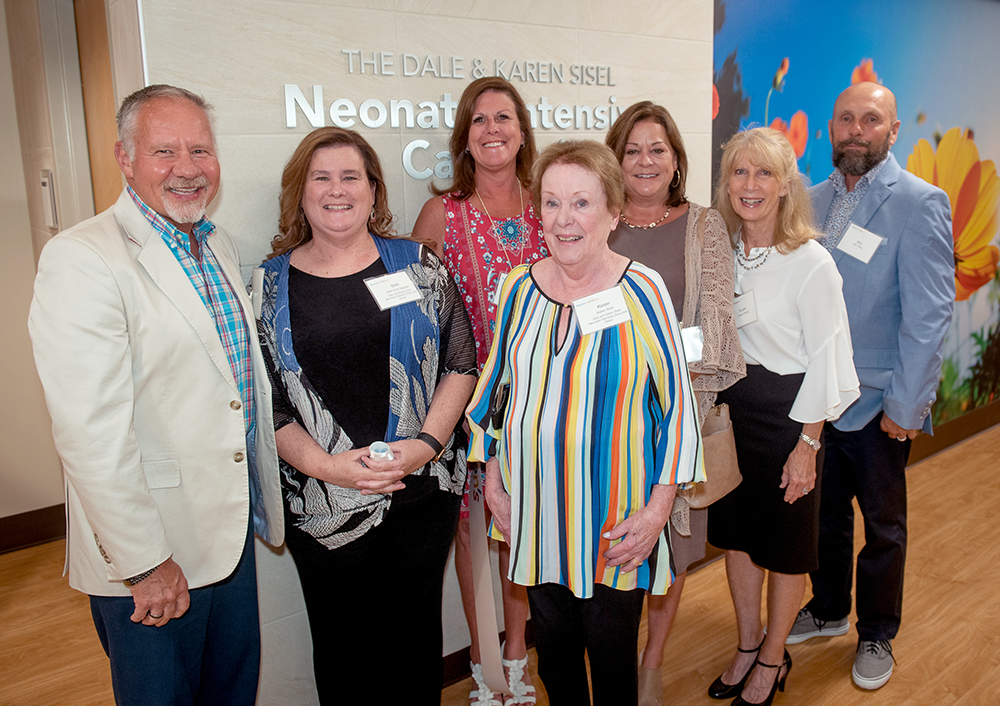 "The reason behind all this is that I toured the old NICU years ago, and I walked away with tears streaming down my face," Sisel said. "My husband and I led a wonderful life. It was very exciting, and there were no obstacles along the way. I asked myself, 'How can I repay this?' And the thought was to pass it forward as they say—make a better place for these children, so they can someday enjoy life the way Dale and I had."
Sisel was among many donors who cut ribbons that day. Several contributors, many of whom provided gifts that allowed rooms to be named in their honor, were on hand to celebrate what their support made possible.
The NICU fundraising campaign also included donations from many employees, a number of whom had heard about hopes for a new NICU discussed for many years before plans came to fruition.
It was a poignant moment for many, including Alisa L. Starbuck, DNP, APRN, NNP-BC, NEA-BC, president of Brenner Children's and vice president of women's and children's health services at Wake Forest Baptist. Starbuck is a former NICU nurse who has spent more than 30 years at the medical center.
"This is a new era for mothers and babies in this city and in the region," she said. "It's something I never thought would happen in my lifetime—that we would deliver babies on this campus, and we would have families in single-patient NICU rooms.
"Every woman who is pregnant or thinking about becoming pregnant should know this is the most comprehensive place for them to deliver their child. It's also the best place in case any complications arise."
The new NICU covers 34,000 square feet and offers 51 private rooms—including two rooms exclusively for families with twins. It features the latest technology and access to the leading pediatric specialists at Brenner Children's. The new space allows families to be with their babies while receiving the highest level of personalized intensive care, according to Penny Blake, DNP, RN, NEA-BC, CENP, chief nursing officer for Brenner Children's and The Birth Center.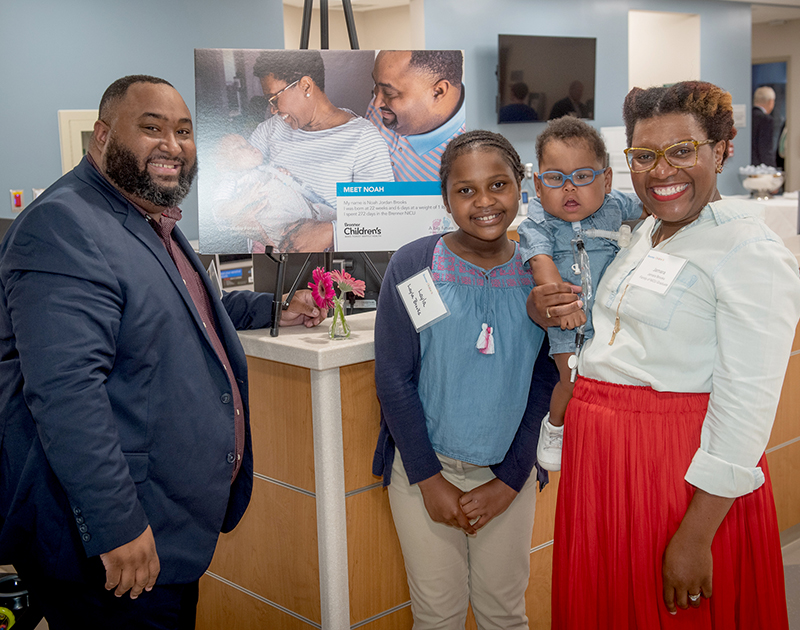 "Every detail was considered by the multispecialty design team to ensure the best family-centered experience," Blake said.
In all, more than 600 faculty, providers, staff and patient and family advisers helped bring the combined Birth Center/NICU project to fruition, along with over 2,200 donors who have supported the campaign for a new NICU.
"We have put our hearts into making this a dynamic and comfortable experience for moms and families," Freischlag said.
The Birth Center provides the full range of delivery options from routine, traditional births and
certified nurse midwife-assisted births
with hydrotherapy to cesarean and other complex births. Deliveries are attended by expert teams of obstetricians, certified nurse midwives, maternity nurses and neonatologists.
All deliveries have immediate access to specialists in newborn care and, if needed, intensive care just across the hall in the new NICU.
Located on the top floors of the Medical Center's Ardmore and North towers, The Birth Center brings a new level of convenience, comfort and patient- and family-centered care. There's valet parking service and dedicated elevators that bring patients directly to a greeting area on the 11th floor.
The setting is serene and comfortable with lots of natural light from numerous windows. Amenities include family lounges on each floor, private patient rooms with couches that easily convert to beds, soft floors, a variety of lighting options and beautiful mountain and cityscape views.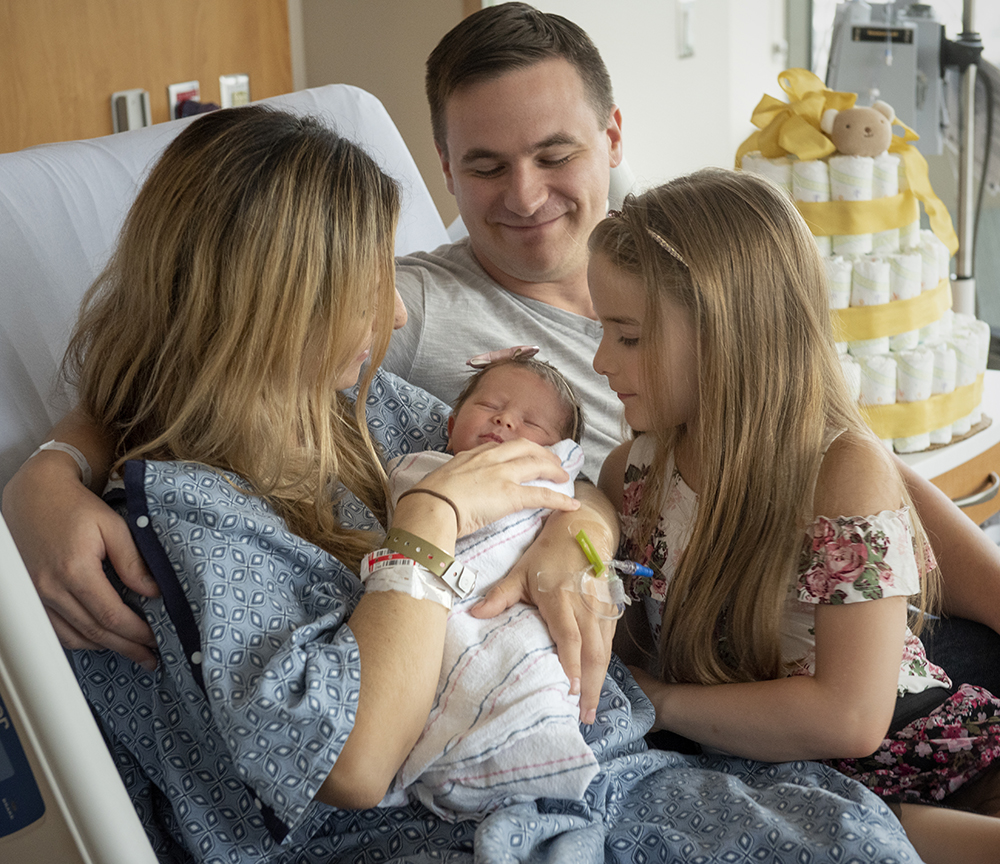 There's a recessed "front porch" entrance to each room that offers family members their own entry and a foyer for coats, suitcases and personal belongings. Hospital staff enter through a separate door.
Several babies were born at The Birth Center as doctors and staff carefully planned some deliveries in advance of officially opening it to all moms. The first child arrived on the morning of July 15. Karina Nieto, MD, a first-year medical resident in radiation oncology, and her husband, Shawn Rudolph, welcomed their daughter, Esperanza, into the world, weighing 7 pounds, 15 ounces. Esperanza was also welcomed by her big sister, 8-year-old Mayara.
Fittingly, as the first birth that marked a new day for the health system that delivered her, Esperanza means "hope."