Three investiture ceremonies were held in 2018 honoring outstanding faculty members with endowed chairs or professorships.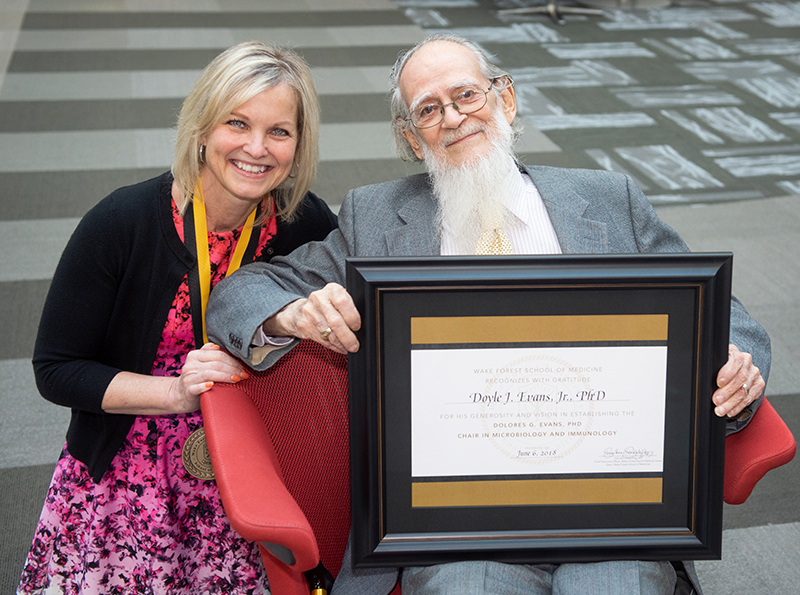 Martha Alexander-Miller, PhD, was presented as the Dolores G. Evans Endowed Chair in Microbiology and Immunology. The chair honors Evans, who in 1968 became the first woman to graduate with Martha Alexander-Miller, PhD and Doyle Evans, PhD '68, a PhD from the School of Medicine. It is the first endowed chair to be established in the basic sciences at Wake Forest Baptist.
Funding for the Evans Chair was made possible by Doyle Evans, PhD '68, in memory of his wife.
Caio Max Sao Pedro Rocha Lima, MD, was presented as the M. Robert Cooper, MD Professor in Medical Oncology. The professorship honors Cooper, a member of the School of Medicine MD '62 who served as professor emeritus in Hematology and Oncology following a long and distinguished career at the Comprehensive Cancer Center.
Funding for the Cooper Professorship was made possible by the late Gladys Ulrich, in gratitude for care that Cooper provided to her niece, Sandra Bisanar.
John D. McConnell, MD, was presented as the Gordon Hanes Chair in Urology. Funding was made possible by gifts from the Hanes family. The Hanes family desired that the people throughout the region would have access to the very best urological care strengthened by clinical research.
These are among 61 endowed faculty positions that have been established at Wake Forest Baptist, with 36 of those funded primarily through private philanthropy. These investments advance academic medicine by providing:
Recognition for truly exceptional faculty members
Resources and time for research, education and patient care, and
A method to help attract and retain outstanding research faculty