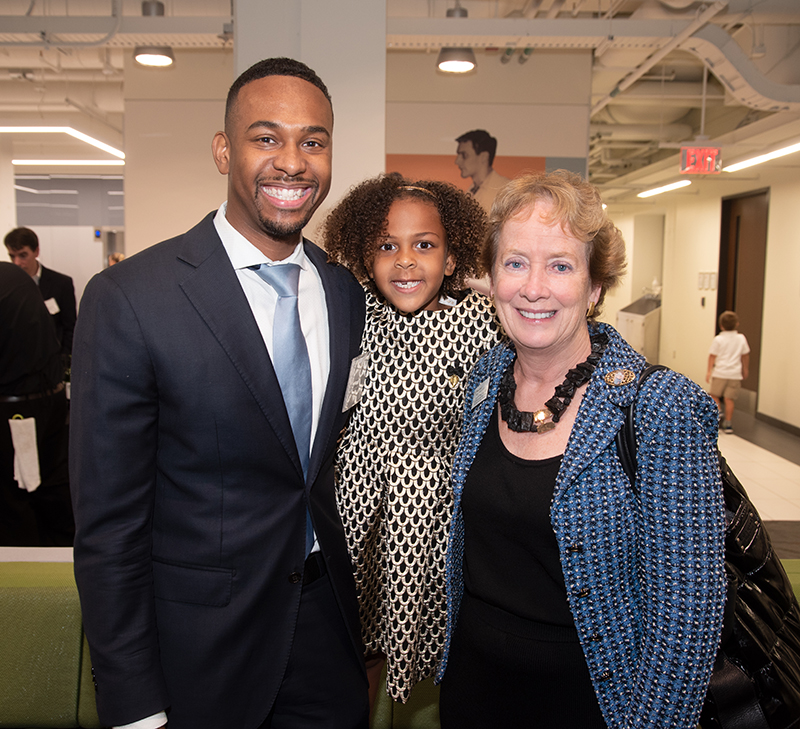 Cameron Webb, MD '13, JD, who helped found the DEAC Clinic, with his daughter Avery Webb and Julie Frieschlag, MD
For the past 10 years, Wake Forest School of Medicine students, under the supervision of physicians from Wake Forest Baptist Medical Center, have delivered health care to underserved populations in our community at the DEAC (Delivering Equal Access to Care) Clinic.
In October, DEAC Clinic students were joined by Medical Alumni Association leadership, clinic donors and school leaders at a dinner celebrating its 10th anniversary. They also celebrated news of the DEAC Clinic's new home in the School of Medicine's Bowman Gray Center for Medical Education, in downtown Winston-Salem's Innovation Quarter.
The free student-run clinic previously had operated in the Community Care Center on New Walkertown Road in Winston-Salem. The clinic began welcoming patients at its new location on Oct. 8. The clinic provides exams, bloodwork, medication and education on healthy lifestyle choices, along with specialty clinics in areas such as cardiology, pulmonology and dermatology. Last year, 486 student volunteers contributed more than 6,200 hours of service.
"Being involved in this clinic provides hands-on training for those of us who are medical students and reinforces our passion for delivering high- quality health care to those who are underserved," said Sophie Claudel, third-year medical student and clinic co-director. "We are so excited to continue our tradition of serving the community by sharing this new and beautiful space with those who need help the most."
In 2017, the DEAC Clinic became the first student- run clinic in North Carolina to receive accreditation from the North Carolina Association of Free and Charitable Clinics, the network of health care facilities that offer free and affordable health care throughout the state.
"We are very excited about the clinic's new location, and we remain deeply grateful to the Community Care Center leadership and volunteers for their years of support," said Mary Claire O'Brien, MD, senior associate dean for health care education at the School of Medicine. "Thanks to our students, physicians and volunteers who give of their time, combined with generous donations from the community, we are able to serve hundreds of people each year."