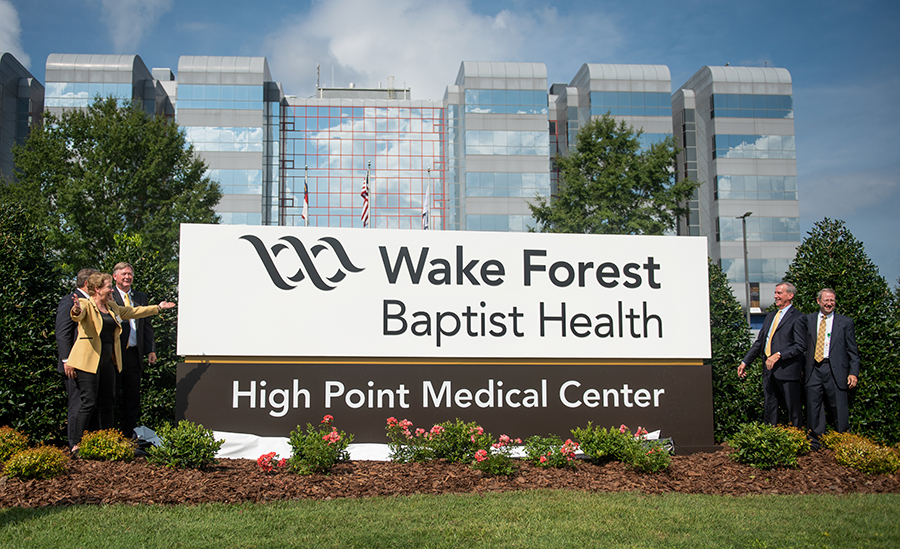 Terry Williams' world is filled with scenarios.
"We're constantly thinking about how the future is going to unfold, and how we can make wise decisions today that allow us to operate successfully in different scenarios," says Williams, Wake Forest Baptist Medical Center's executive vice president and chief strategy officer.
Plotting those options and following the plans has meant that Wake Forest Baptist has become a growing network health system in recent years rather than an individual medical center. In September, the health system welcomed High Point Medical Center as its latest network hospital.
That addition followed the acquisition of Wilkes Medical Center in July 2017 and the opening of Davie Medical Center in April 2017. Lexington Medical Center has been a part of the system since 2008 and is now expanding its surgical services facility. Operating rooms across the system are often at capacity, and projects on the Davie and Winston- Salem campuses along with the Lexington expansion will help address that need.
It is an example of how growth is a constant and a necessary one at that, according to Williams.
"You need convenience for individuals across a large geography as a part of what you're doing," he says. "The concept of having people come to a concentrated location is less feasible as our market reach grows, and there's enough expertise here that people come from a long way away. We actually need to start getting closer to where they are."
Primary care is a prime example.
"The strategy has shifted over the last few years to go beyond being a wonderful specialty hospital to needing to have substantial primary care," Williams says.
He estimates Wake Forest Baptist has expanded from fewer than 100 primary care providers roughly four years ago to more than 350. That expansion has contributed to top-line revenue growth of about $1 billion, he says, giving the Medical Center larger scale to drive down per-unit costs and make care more affordable.
The biggest piece of that transformation was the acquisition of High Point-based Cornerstone Health Care in 2016.
"They were the largest independent physician group in the state with about 275 providers," Williams says of Cornerstone. "That's part of the reason we were able to grow our primary care network from being too small for today's world to being much more convenient and substantial in size. That was a major accomplishment."
Wake Forest Baptist remains the region's only academic medical center, and that presents its own set of challenges.
"The federal government has been pretty clear that they have to remove money from health care, and that disproportionately affects academic medical centers," Williams says. "The education and research missions often require a subsidy for those to be accomplished, but we're passionately committed to fulfilling those missions.
"When money is pulled out to the tune of tens or hundreds of millions of dollars by the federal government, that makes fulfilling those missions more difficult. We're committed to keep adapting. It means we'll provide some new services, and some things we won't be able to provide as much of. It's just the reality of the world."
That reality requires considering new and different methods than what worked in the past. It could mean, for example, creating partnerships with entities that provide insurance-like products, so the Medical Center can provide more tailored solutions to meet the needs of specific groups, whether they may be patients or employees of potential partner organizations.
"There are a lot of transforming pressures on health care that make it easier to survive and thrive if you're a little larger," he says. "We've worked hard to be a very good partner with other health systems, and I think you'll see more diversity in the types of partnerships we pursue."
Meaning that change and the planning required to navigate it successfully will continue.