Wake Forest Baptist Health has come a long way from the days when people throughout the region referred to it simply as "the Baptist," the hospital of choice for the best care when they needed it most.

Two decades into the 21st century, what once was a single hospital and then an academic medical center affiliated with the Wake Forest School of Medicine has become an academic health system, employing more than 19,000 professionals across multiple communities. It remains a tax-exempt 501(c)(3) nonprofit, a leading employer and a key part of the region's economy.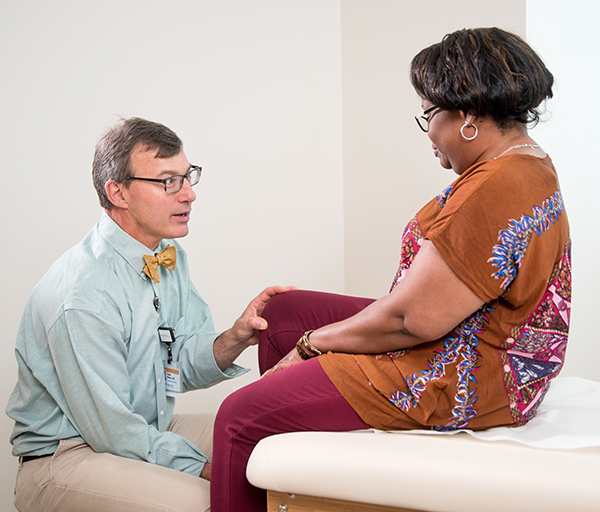 Since 2007, Wake Forest Baptist has expanded its network to include five medical center campuses—Wake Forest Baptist Medical Center in Winston-Salem, plus medical centers in Davie (2007), Lexington (2008), Wilkes (2017) and High Point (2018). The health system also includes Brenner Children's (1986), the only children's hospital serving western North Carolina. Together, the hospitals form a system with nearly 3,000 physicians and specialists, and nearly 5,000 nurses.
According to system President Kevin High, MD, MS, MACP, FIDSA, that growth has helped bring care closer to those who need it.
"Rather than moving patients, we're moving doctors, technology and resources into their communities," High says. "I think it's a huge benefit being able to keep patients close to home. It may be easier for us to build things around the doctor and bring the patients to them, but that's not the way health care is being delivered now and it will be even less that way in the future."

More Locations and Services
As president of Brenner Children's and vice president of women's and children's health services, Alisa Starbuck, DNP, APRN, NNP-BC, NEA-BC, says the system's growth has both improved care and made it more convenient.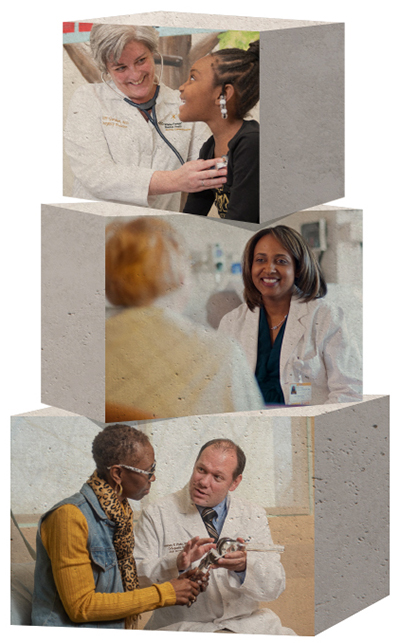 "To be able to integrate across these network hospitals has improved care for everyone," she says. "We have combined the things our network hospitals do well with the things we do well in Winston-Salem, and that has made us more of a system than ever before."
Growth has allowed primary care for pediatrics and women's health to expand significantly over the last five years, she says.
"From 2014 to 2019, our footprint in pediatrics and women's health has tripled," says Starbuck. "Being able to work with family practice physicians in the western part of the state and translate that knowledge from Brenner Children's, that's how we improve care across the state."
The opening of The Birth Center at Wake Forest Baptist Medical Center in summer 2019 was another expansion in care. It marked the return of regular labor and delivery services to the Winston-Salem campus after more than 40 years. It opened alongside the new Dale and Karen Sisel Neonatal Intensive Care Unit (NICU) at Brenner Children's.
The NICU, funded in part by a $5 million gift from Karen Sisel and her late husband Dale, is one of the most recent advancements within the system that has been provided through philanthropy.
In Lexington, a new surgical facility was built in 2019, thanks to a community-driven fundraising campaign. In High Point, local philanthropic support over the years has provided for the Hayworth Cancer Center, the Congdon Heart and Vascular Center, the Esther Culp Women's Center and the Millis Regional Health Education Center.
Such gifts often lead to other gifts, according to Starbuck.
"With the NICU, we saw how a donor who becomes very committed to a cause can attract additional donors," Starbuck says. "Once Mrs. Sisel was on board, it was like people began asking about how they could help. Once that process begins, it just grows and then you have that pool of dollars raised that can really transform care."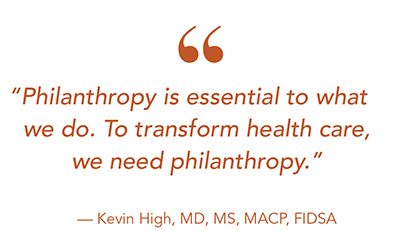 The Potential of Philanthropy
There are myriad possibilities for potential philanthropic gifts, from expanding training opportunities to reaching underserved parts of the community or incorporating new technology.
Cathleen Wheatley, DNP, RN, CENP, president of Wake Forest Baptist Medical Center–Winston-Salem campus and chief nurse executive for the health system, says a philanthropic investment of about $500,000 could provide an infrastructure to support nursing research opportunities.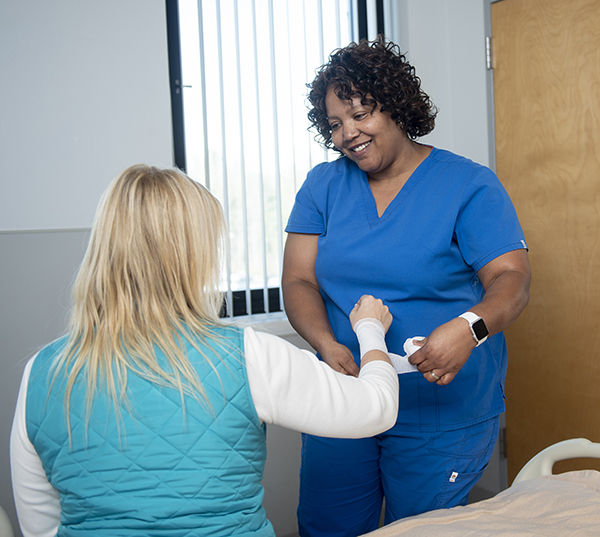 "That kind of research system for nurses is one of the attributes of an academic health system that typically is attractive when we recruit nurses," says Wheatley, who also is senior vice president of clinical operations for Wake Forest Baptist. "We want to engage more of our nurses in understanding what it is to be part of a learning health care system.
"We could use the funds for small seed grant money for research projects that nurses may want to do and support editors for manuscript preparation. We want to retain our nurse scientists at the bedside and improve care. A learning health care system will source quality improvement projects or research questions at the bedside, and the research efforts those nurses are engaged in will help us to improve care for patients. The literature shows that scientific inquiry motivates nurses and engages them with their practice over the long run," says Wheatley.
Starbuck sees opportunities to extend care into the community.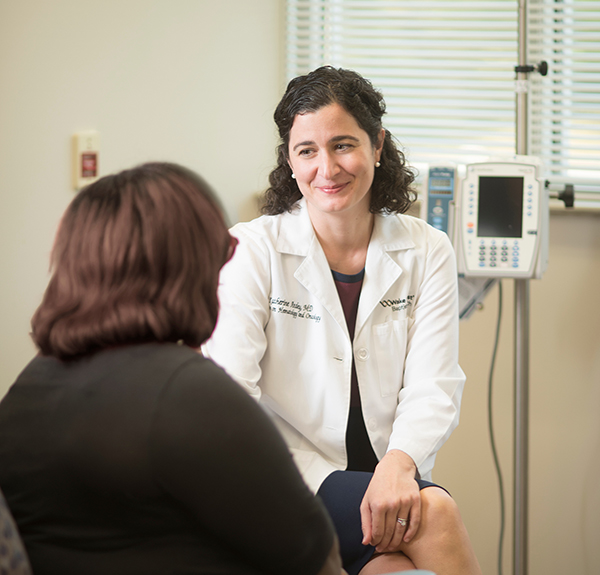 "If I had $500,000 today, I would build on what we're doing on the adult side with a mobile clinic and offer more vaccines for children and more prenatal care for moms," she says. "We need to do all we can to make sure everyone in the community is comfortable seeking the care they need here. If we want to improve the public health statistics regarding high rates of infant and maternal mortality, we have to reach everyone and provide health care."
Philanthropy also could provide things that are entirely unique, according to High.
"What a novel thing it would be to endow three positions tied to the new surgical facility in Lexington or at any of our network hospitals," he says. "Endowed gifts help us recruit and retain outstanding faculty and physicians and support their programs by hiring additional staff. That could be done anywhere in our system."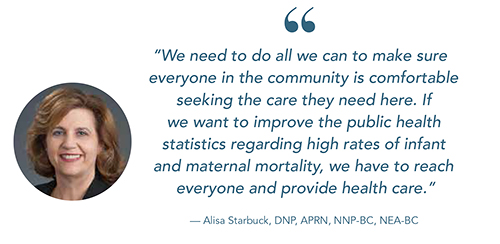 Transformations in Care
High says philanthropy makes it possible to impact care.
"Really, that's what all philanthropy is about, whether the gift is $15 or $15,000," he says. "It gives you a committed source of revenue you can use to make important transformations and a meaningful difference.
"As a nonprofit, any margin we create goes back into our mission. It ensures we can care for our community and continue to combine research and education with clinical care. Philanthropy is essential to what we do. To transform health care, we need philanthropy."
With a health system that has now expanded its footprint into multiple communities, the opportunities for those philanthropic dollars—and for the donors who provide them—to improve health are as limitless as ever.
Do you have an interest in supporting Wake Forest Baptist? If so, the Office of Philanthropy and Alumni Relations can help you achieve your philanthropic passion. You can reach our office at 800-899-7128 or email philanthropy@wakehealth.edu.