Within weeks of the October 2020 announcement that the strategic combination of Atrium Health, Wake Forest Baptist Health and Wake Forest University had been approved, news arrived about an investment: $3.4 billion from Atrium for the Wake Forest Baptist Health system and the communities it serves to address needs over the next 10 years.
"As a combined enterprise, Atrium Health will be life-changing for the people of Winston-Salem and throughout North Carolina," said Eugene A. Woods, MBA, MHA, FACHE, president and chief executive officer of Atrium Health. "Throughout the process of joining together Wake Forest Baptist Health, Wake Forest School of Medicine and Atrium Health, we've worked hard to understand ways we can make a difference—to improve health, elevate hope and advance healing, for all. Part of that is making sure we make investments into the community and the infrastructure to ensure even better care, research and education that will have a positive impact for generations to come."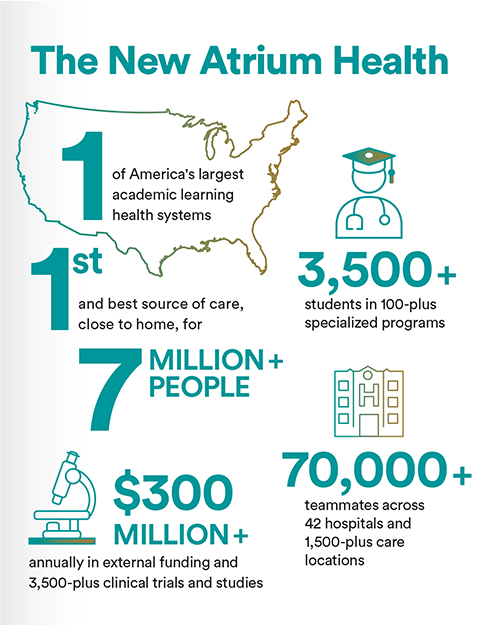 The enterprise will invest approximately $2.8 billion to improve facilities and fund critical investments across the communities served by Wake Forest Baptist. This includes projects such as a new children's outpatient center and a new care tower at Wake Forest Baptist Medical Center that will expand access to critical services to the community. The care tower project calls for an upgraded emergency department and enhanced operating rooms and intensive care units. There is also funding being earmarked for expansion of virtual care capabilities—including for behavioral health—and state-of-the-art clinical care services, making care more accessible and affordable.
Funds are also being combined with private philanthropic support to accelerate the creation of a new Eye Institute. Planned as the first major clinical presence in downtown's Innovation Quarter, the Eye Institute will increase and enhance the vision services available to the community.
"This commitment to grow our capabilities is part of what makes our strategic combination with Atrium Health so beneficial for our patients, our faculty and staff and the communities we serve," said Julie Ann Freischlag, MD, FACS, FRCSEd(Hon), DFSVS, chief executive officer of Wake Forest Baptist Health, dean of Wake Forest School of Medicine and chief academic officer for Atrium Health Enterprise. "Not only will this improve care delivery, it will also have a tremendous, positive effect on our local and statewide economy. As we break new ground on buildings, we'll also be able to break new ground in the areas of clinical care, education and research."
With Wake Forest Baptist Medical Center and Wake Forest School of Medicine forming the academic core of the new Atrium Health enterprise, it is additionally committing nearly $600 million to advance Wake Forest Baptist's academic mission and further elevate its national reputation. Included in this are a new $150 million academic endowment created to fund additional education and research growth and a $70 million Academic Enrichment Fund to accelerate academic initiatives.
Expansion of educational programs, biomedical research, clinical trials and life-saving treatments that improve health are also planned. One planned project is a second Wake Forest School of Medicine campus, to be located in Charlotte, with the primary campus remaining in Winston-Salem.
...
Based on a recently commissioned economic study by Tripp Umbach, the total direct and indirect annual economic impact is projected to grow under the combined enterprise from $33 billion in 2020 to $54 billion in 2040—an increase of more than 60% over a 20-year period. The direct and indirect annual employment impact from the combined enterprise will include a growth of over 91,000 jobs in 20 years, from 184,000 in 2020 to an estimated 275,000 in 2040.
Both health systems have a shared commitment of improving the health of people in communities they serve. The new enterprise provides more than $5 million a day in charity care and other benefits to its communities, through programs such as the Maya Angelou Center for Health Equity, serving underserved populations and improving health equity education and training.