Seasonal community fundraising efforts through partnerships with local Great Clips franchisees and Spirit Halloween retail stores continued to generate support for Brenner Children's in 2020.
Great Clips, Great Cause
In November 2020, local Great Clips locations in the Triad sold designed cutouts for $2 each as part of an annual fundraising campaign for Brenner Children's. In exchange for making a donation, customers received a $2 coupon off a haircut and the cutout was displayed at the salon.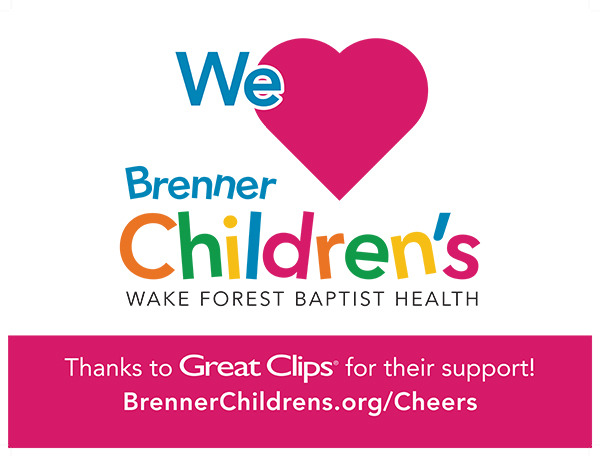 Since the partnership between Great Clips and Brenner Children's began in 2011, it has generated more than $273,000 in donations to the children's hospital, ranging from approximately $5,000 in its first year to over $70,000 in 2019. The franchisees' efforts over the years have supported various initiatives at Brenner Children's, including the newly established music therapy room – Sophie's Place – and the Dale and Karen Sisel Neonatal Intensive Care Unit.
"Corporately, it's part of our culture at Great Clips, and personally, my wife Christine and I feel that we need to be generous in giving back to our communities," says Joe Kissick, who owns 14 of the more than 30 Great Clips locations that participate and is one of five franchisees who take part.
The participating locations and their employees have fun competing for various recognitions, including most money raised, highest percentage increase year over year and store decoration contests. At most locations, at least one staff member has a child who has received care at Brenner Children's.
Kissick says Great Clips' support traces back to a franchisee who suggested that the locations raise money for Brenner Children's after her grandchild received excellent care at the hospital. Nationally, Great Clips has a tradition of supporting children's hospitals, and the Brenner Children's service area meshes with the regional Great Clips franchise locations, making the fundraising partnership "a perfect fit for us," Kissick says.
"Our contributions have always been so appreciated," Kissick says. "We feel we are accomplishing what we want to accomplish, which is to make a difference in our community."
A Spirit of Giving
From September through October, Spirit Halloween, a division of Spencer Spirit Holdings Inc., sells costumes and accessories for the Halloween season. Through its Spirit of Children Program, the company donates 10% of these sales each year to child life departments at approximately 150 children's hospitals in communities across the country. Child life departments provide developmental, educational and therapeutic support to children undergoing medical treatment.
According to Cynthia R. Mahan, CCLS, manager of Brenner Children's Child Life Department, Spirit of Children has donated nearly $210,000 to Brenner Children's since 2010. The 2020 Halloween season brought the biggest donation yet: $41,525.
Mahan says she is grateful for how Spirit of Children's support has allowed the hospital to continue supporting families during a difficult 2020. She sees donor support as critical to Child Life's success, with donations providing nearly 100% of what the department makes available to patients in services, supplies and gifts.
"In a year when everything seemed to be turned upside down, their funds allowed our services to continue," Mahan says. "Having the flexibility to address unique needs as identified is a real gift."
For more information, please visit WakeHealth.edu/Patient-and-Family-Resources/Brenner-Childrens-Resources/Child-Life.