Foundations seeking opportunities to support innovation in healthcare, leading-edge research, and clinical excellence, will find meaningful partners in the Foundation Relations team at Atrium Health Wake Forest Baptist. Foundation Relations builds strong and engaging relationships that focus on connecting with each unique foundation's mission and vision to ensure your interests are appropriately matched with our initiatives.
Foundation partners at Atrium Health Wake Forest Baptist have helped to support projects addressing food insecurity, health disparities, needs for specialized services, and many others. The Foundation Relations team will work to connect you with research opportunities, clinical programs, and talented faculty members that will help leverage your organization's strengths and reach shared goals. Together we will work to transform healthcare in our community and beyond.
Our Faculty Partners:
Foundation Relations collaborates with faculty as they seek funding for Atrium Health Wake Forest Baptist's research, programs, academics, and initiatives. We explore foundation opportunities and offer tools and expertise to help match your programs and projects with private foundation funders.
Core areas of service and expertise include:
Guiding faculty throughout the private foundation proposal process.
Reviewing proposals for guideline compliance, general copyediting, and alignment with the foundation's mission.
Ensuring that the proposals are appropriately tailored to the reviewing audience.
Facilitating on-site visits and meetings between faculty and foundations.
Our faculty partners should contact Foundation Relations directly to explore opportunities for funding. We regularly distribute foundation funding opportunities directly to faculty across Atrium Health Wake Forest Baptist. View our latest listing.
Wake Forest Baptist Receives Two Grants Totaling Almost $1 Million from The Duke Endowment

"Especially amidst the COVID-19 pandemic and reports of increasing food insecurity, the Food is Health project has the potential to positively impact the health of our community during these uncertain times," said Kimberly Montez, M.D., principal investigator for the Food is Health grant and assistant professor of pediatrics at Wake Forest Baptist.

Read more about how the Duke Endowment is helping Atrium Health Wake Forest Baptist address food insecurity.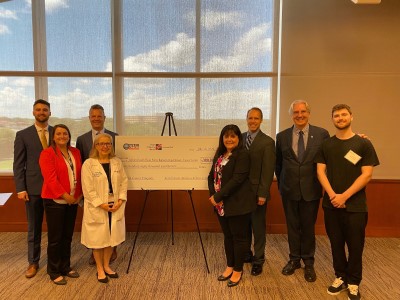 Atrium Health Wake Forest Baptist Receives Grant to Support Teen and Young Adult Cancer Patients
"We are very grateful for this grant which helps us continue to expand our specialized oncology services and create activities that align with our patient-centered model of care and meet the unique needs of teens and young adults with cancer," said Dianna Howard, M.D., professor of hematology and oncology at Wake Forest Baptist and medical director of the new program.
Read more about this exciting opportunity for our oncology services.