For Craig M. Greven, MD, there's more than meets the eye in Wake Forest Baptist Health's plans for a new Eye Institute.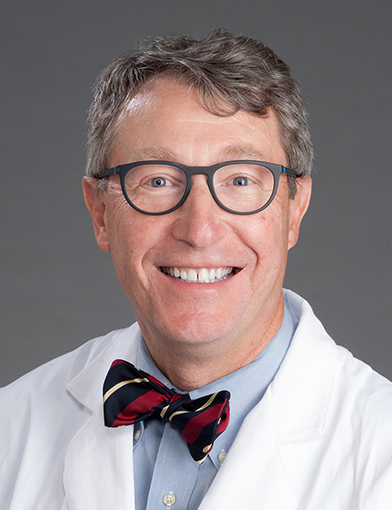 Greven, the Richard G. Weaver Professor and chair of ophthalmology at Wake Forest Baptist, believes a better space for ophthalmology, in a more convenient location with expanded services and a greater ability to address a range of needs, can be a modest step toward a better world.
A new Eye Institute is needed to replace Wake Forest Baptist's existing Eye Center. The Department of Ophthalmology moved into its current space on the Wake Forest Baptist Medical Center campus in the early 1990s, when the department was providing approximately 30,000 patient visits a year. That figure is now approaching 100,000 patient visits a year.
"For decades, our Eye Center has done incredible work in managing complicated eye problems for our region," Greven says. "This new Eye Institute is going to set us up to provide the same outstanding care but in a more comprehensive, state-of-the-art facility.
"Many eye diseases are age-related, and we have an aging society. The prevalence of diseases like macular degeneration, glaucoma and cataracts all increase with age. We need a facility with the space to provide the 100,000 visits we are currently seeing across all of our sites."
An Eye Institute will provide special operating rooms designated solely for ophthalmology, expanded space for research and training, and an environment – from parking to waiting areas to exam rooms – that will greatly improve the patient experience.
Distinguishing Factors
Greven sees certain factors that differentiate Wake Forest Baptist's eye care and can be further enhanced in a new location.
"One thing that sets us apart is our clinical care provided across our entire team," he says. "Our physicians, technicians, imagers, optometrists, physician assistants and staff are totally committed to the patient and to getting superior outcomes for complicated conditions and diseases. That high level of care allows us to provide superior education. To become great ophthalmologists and great doctors taking care of eye problems, our medical students, residents and fellows need to witness the great care that's going on here in our institution."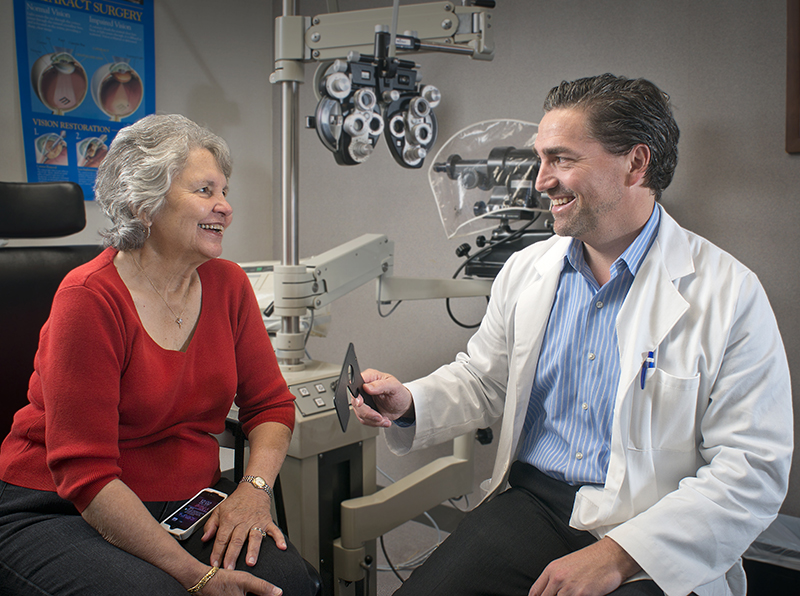 Plans call for the new Eye Institute to include a large teaching space with seating for up to 100, small education rooms and a surgical wet lab to enhance training opportunities. The new space also promises to enhance research.
"Our patients are involved in clinical trials to help find the next great treatments for macular degeneration, diabetic retinopathy and other conditions," Greven says. "That clinical research will continue and should expand with a new Eye Institute, and a new facility also will allow us to have a growing basic-science research platform to investigate new treatments for ophthalmic diseases."
Philanthropic Partners
Two major financial elements will help make the Eye Institute a reality. One comes from the new partnership of Wake Forest Baptist with Atrium Health, announced in October 2020.
"Our strategic combination with Atrium Health has provided some of the funding and resources that will help us create our Eye Institute more quickly," says Greven, who estimates that Atrium will invest approximately 80% of the project's projected cost. "Just as important, their culture aligns well with what I call the legacy Wake Forest Baptist culture of care for all. It doesn't matter the type of insurance you have or your circumstances, we want to take care of everyone in a compassionate and efficient manner. Atrium has the same outlook and the same core values."
The other element is a philanthropic fundraising campaign that will provide the remaining 20%, or approximately $12 million, of the project's cost. Greven calls the campaign "critically important." He expects to draw local, regional and national support for the project, which will impact patients across a five-state region.
"We've already had some donations in our quiet phase to help us toward our goal," he says. "But in order to build an Eye Institute that is comparable to other world-class facilities, we're going to need additional substantial philanthropic gifts to achieve everything the people of our region deserve."
A Location Welcoming to All
Perhaps the aspect that most excites Greven about a new Eye Institute is its location, in downtown Winston-Salem's Innovation Quarter, near the junction of Highway 52 and Salem Parkway. He sees the new structure as a significant addition to the city's skyline, alongside notable banking and industry buildings, that will send a message about the city's leading role in innovation and medicine.
"The location is important to us, because we recognize that we must be accessible to all," he says. "This building is part of our commitment to the community, and in particular to those in our community who have been traditionally marginalized on the basis of race and socioeconomic status. Our desire is to serve all in our community.
"It's about providing great eye care, but it's more than that. This is about making the world a better place. That's what we're about."