As Wake Forest Baptist Health raced to make changes and adapt when the coronavirus pandemic began, members of the community came forward with offers of help.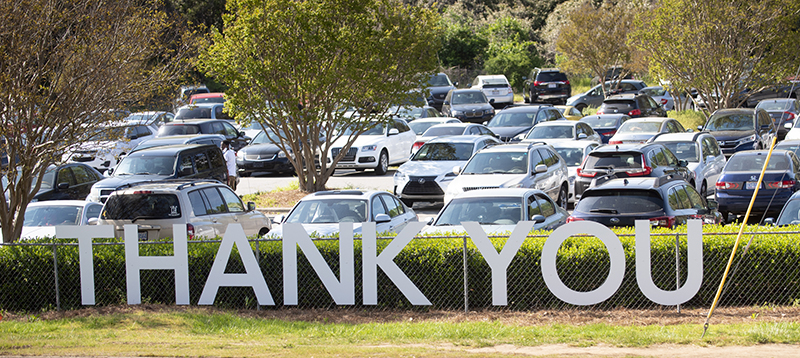 From February through April, Wake Forest Baptist addressed multiple challenges. Non-urgent care was delayed and rescheduled. Telehealth options, including email, phone and video visits with medical providers, were expanded to replace in-person appointments for certain non-urgent needs. A dedicated hotline—336-70-COVID—was set up.
"Some of these changes were hour to hour," says Kevin High, MD, MS, MACP, FIDSA, president of the health system. "We would get new information, and we would have to change something in the afternoon that we had just communicated across the health system that morning."
Much of what health system leaders worried about thankfully didn't happen.
"We didn't get overrun with patients, run short of ventilators or have our ICUs packed," he says. "In fact, we lowered admissions by 30% and outpatient surgeries by 70%. Then the question became how do we get patients back in for care? All those people who were going to have surgeries had the procedures delayed, and thousands of procedures went into a queue."
The health system began meeting those needs in early May, resuming regular patient appointments and surgeries with additional safeguards adopted to ensure COVID-19-protected care.
Supporting the Greatest Needs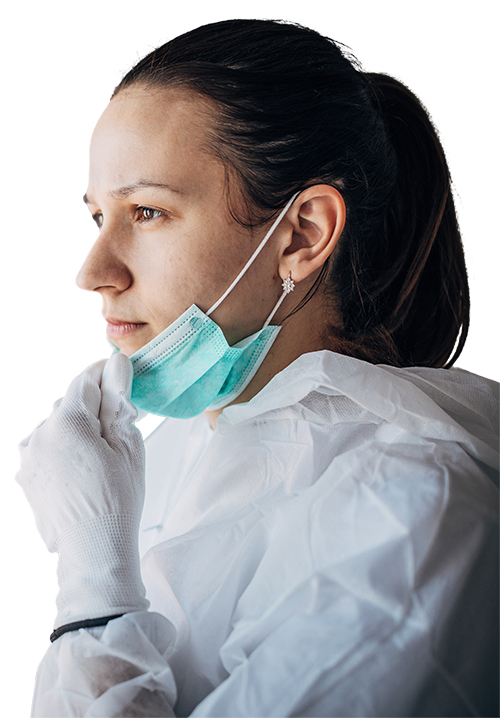 While the health system raced to make changes, members of the community came forward to offer help, and by mid-March, a COVID-19 Response Fund was established. Donations, which can be made online at
WakeHealth.edu/COVID19support
, are directed to areas of greatest need, such as:
Equipment and supplies to protect both patients and health care employees.
Resources to support Wake Forest Baptist's Employee Emergency Fund.
Support for patients who may not have insurance coverage or resources to address care-related expenses.
Support for diagnostic and testing services.
Educational and training expenses associated with redeploying health care workers to the areas of greatest need.
Research to combat the impact of COVID-19.
The Office of Philanthropy and Alumni Relations used its strong connections throughout the community to coordinate in-kind donations from corporations, community groups and individuals. Corporate Relations Officer Jennifer Woodward joined Wake Forest Baptist's supply chain team to oversee community outreach.

"Jennifer knows the community so well and was in the best position to coordinate all of these requests that seemed to come from everywhere," says Conrad Emmerich, senior vice president for clinical and support services and supply chain for Wake Forest Baptist. "She was instrumental."

"Over the years, we've had tremendous partnerships with so many of our community's corporate leaders," Woodward says. "However, the incredible response we received from the outset of the COVID-19 pandemic has been phenomenal. In a matter of a few short weeks, our philanthropy team collected tens of thousands of valuable personal protective equipment (PPE), as well as countless meals for our frontline clinical workers. These donations came from companies and organizations in our region and beyond. We welcomed hard-to-find supplies from national corporations and organizations, as well as those across the globe."

Woodward credits many of her colleagues for joining her in responding to the offers of assistance.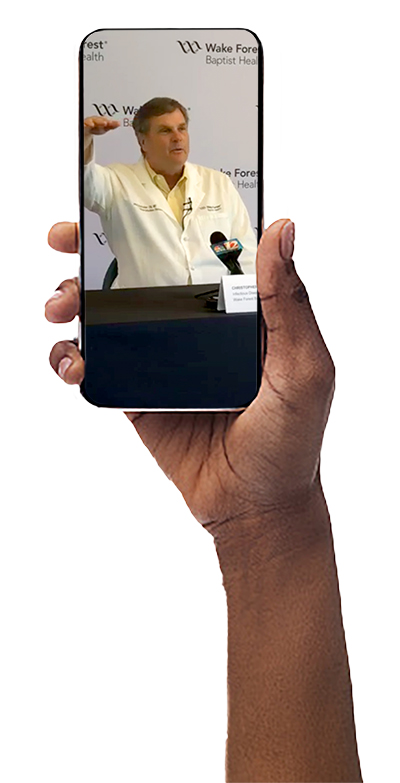 "Even more humbling has been the genuine concern from those with personal connections to our staff, students and grateful patients," Woodward says. "We have been overwhelmed by the expressions of gratitude during this critical time as everyone wants to ensure our clinical team and patients are well protected. It has been an honor and a privilege for our entire team to help facilitate this remarkable support."
"This was a moment when all of the strong bonds that have developed over the years between the community and our office and our health system proved to be invaluable," says Lisa Marshall, chief philanthropy officer and vice president of philanthropy and alumni relations. "Members of our philanthropic advisory groups helped by reaching out to others in the community on our behalf to share how everyone could support our health system. I'm also very proud of the extraordinary work that Jennifer and so many others in our office put in to make this successful."
In addition to extending help, the community needed a trusted source for reliable information. Christopher Ohl, MD, professor of infectious diseases, shared his expertise during weekly broadcasts on Facebook Live and local television.
"I think we have filled an important role for the community, particularly in reassuring people and letting them know what to expect, dispelling myths and giving correct information," Ohl says. "I consider it outreach and part of what we do as a health system for our community. Right now, we have expertise that can help, and it's important to share that. There are other times, like now, when the community helps us out, which my colleagues and I really appreciate."
Positive Partnerships
The health system's partnerships during the crisis have ranged from research to manufacturing.

Wake Forest Baptist and technology company Oracle are working on a community-based research study to help fight COVID-19 across the country. Other partners are Atrium Health and Javara Inc., a leading integrated clinical research organization in Winston-Salem.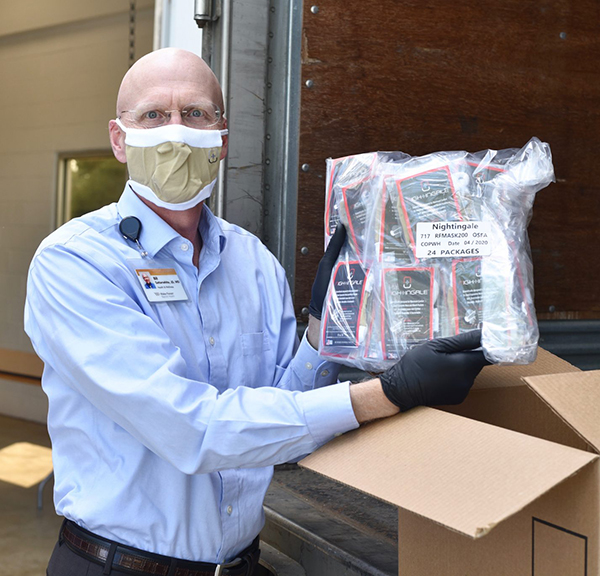 A web-based Patient Monitoring System that Oracle developed with Wake Forest Baptist and Javara is collecting daily information across a large population. The aim is to identify regional infection patterns and help researchers find ways to contain and possibly eliminate COVID-19 in defined communities. John W. Sanders, MD, chief of infectious diseases at Wake Forest Baptist, is the study's principal investigator.
Leaders across the community worked together on Mask the City, an initiative to give a mask to everyone in Winston-Salem. The result was the Nightingale™ WS Protective Mask developed by a team led by William Satterwhite III, JD, MD, chief wellness officer at Wake Forest Baptist. The masks are manufactured by Renfro Corp., a major producer of socks and legwear based in Mount Airy, N.C.
Area businesses, foundations and donors paid for approximately 60,000 masks that were given at no cost to low-income and at-risk residents through a variety of community and faith-based organizations. Several businesses, nonprofit organizations and the City of Winston-Salem also bought large quantities to give to their employees.
Research throughout Wake Forest Baptist, the Wake Forest School of Medicine and Innovation Quarter ramped up to respond to the pandemic. One example: The Wake Forest Institute for Regenerative Medicine carried out testing at its Manufacturing Development Center that helped determine the most effective types of fabric to use in homemade masks. By early May, Wake Forest Baptist had launched more than 30 research projects related to COVID-19 that will impact more than a half million people in the Triad and beyond.
Thank You
High was quick to praise both the community and the Wake Forest Baptist family for their responses.

"I must say what a phenomenal job our employees have done," High says. "They've gone above and beyond, time and time again. As we've moved into a time when we're talking about addressing the financial crunch we've experienced, again they are responding like total professionals. To our workers, we can't say thank you enough."

In a crisis, those employees found a community willing to stand with them.

"The positive response from the community was tremendous," Marshall says. "It was a heartening reminder that we're all in this together."