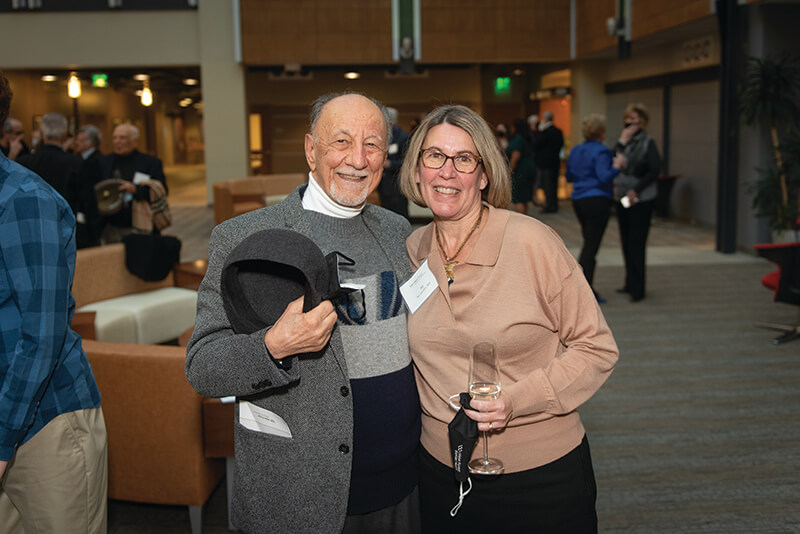 Pictured are Ali Jarrahi, MD, MPH, and Lisa Marshall, Chief Philanthropy Officer and Vice President, Office of Philanthropy and Alumni Relations.
Work in aging has long been a strength of Wake Forest University School of Medicine and Atrium Health Wake Forest Baptist.
Philanthropic investments and research funding from the National Institutes of Health and other sources helped to create an Alzheimer's Disease Research Center at the medical school and helped the institution become the national coordinating center for the Claude D. Pepper Older Americans Independence Centers program.
With a new area of aging research now emerging, the school's researchers are again taking the lead. The area is geroscience, which seeks to understand the genetic, molecular and cellular mechanisms that make aging a major risk factor and driver of common chronic conditions and diseases of older people.
What is Geroscience?
Jeff Williamson, MD, MHS, section chief and professor of gerontology and geriatric medicine and director of the Center for Healthcare Innovation at the School of Medicine, explained that geroscience focuses less on specific diseases and more on the process of aging itself.
"Geroscience has turned the traditional research approach on its head to ask if we can research how to slow the rate of aging and cut across many diseases at one time, rather than focus on one disease at a time," said Dr. Williamson, who also serves as co-leader of the Alzheimer's Disease Research Center and clinical core leader for Wake Forest's Pepper Center. "Cancer, heart disease, Alzheimer's and arthritis are all more common in older people, and biological aging is by far the greatest risk factor in these conditions. If you can affect the rate of aging, one may very well slow the onset and progression of those diseases just as much as if you used medicine to treat those individual diseases. That's geroscience."
Dr. Williamson said the School of Medicine, working with Atrium Health, is one of a few institutions in the world leading this research approach.
Philanthropic Investments
Two recent philanthropic investments are accelerating geroscience research at the school and the health system.
The Jarrahi Family Endowed Research Scholars Fund in Geroscience was established through a gift of $1 million from Ali Jarrahi, MD, MPH. Gifts from alumnus Toby Alligood, MD, and his wife, Patricia Alligood, established the Toby R. Alligood, MD, Endowed Professorship in Geroscience.
The Jarrahi Fund supports faculty who are early in their careers and are focused on geroscience. Stephen Kritchevsky, PhD, an internationally known expert in the determinants of health, functional decline and disability in older adults, was named the inaugural Toby R. Alligood, MD, Endowed Professor in Geroscience in early 2022.
Dr. Williamson said the funds work together to elevate research.
"The Alligood fund allows Dr. Kritchevsky to lead and think about how we should recruit people, design our research and implement it," Dr. Williamson said. "The Jarrahi fund supports the people who will do the research. Those 2 investments work hand-in-glove. We need a great researcher who can envision the future from a higher level, and we need people who can make that vision happen."
Kritchevsky is professor of internal medicine and translational research, associate dean for faculty research and co-director of the J. Paul Sticht Center for Healthy Aging and Alzheimer's Prevention. He has helped lead research in aging at the School of Medicine and Wake Forest Baptist since 2003.
His work has included studies of vitamins, protein, energy balance, obesity and exercise. He is shaping the field of geroscience through research and his leadership of the Translational Geroscience Network, funded by the National Institute on Aging.
Visionary Donors
The donors behind the funds have deep connections with the School of Medicine.
Dr. Jarrahi has enjoyed a long and successful career in psychiatry. He was born and raised in Iran and earned his medical degree from Tehran University of Medical Sciences. After immigrating to the United States, he completed internships and residencies at the University of Cincinnati and the University of North Carolina at Chapel Hill, specializing in neuropsychiatry.
He joined the School of Medicine as a clinical faculty member in 1973, and although he participated in teaching medical students and psychiatric residents, he worked mostly in private practice until retiring in 2014.
Toby Alligood attended what was then known as the Bowman Gray School of Medicine as a Reynolds Scholarship recipient, graduating in 1976. Patricia Alligood graduated from Towson University in 1976, with a bachelor's degree in nursing. Dr. Alligood completed residencies in internal medicine at Union Memorial Hospital and in dermatology at the University of Maryland. Board certified in both specialties, he practiced dermatology for 30 years near the Alligoods' hometown of Washington, NC
Dr. Williamson said geroscience is an example of how philanthropic investments can make a difference.
"We have many other areas and many visionary faculty who do not have the protected time to put their vision into a plan," he said. "There are also areas where we need to recruit young researchers to make plans into reality, especially in aging and geriatrics where investments could make a huge difference for people around the world."