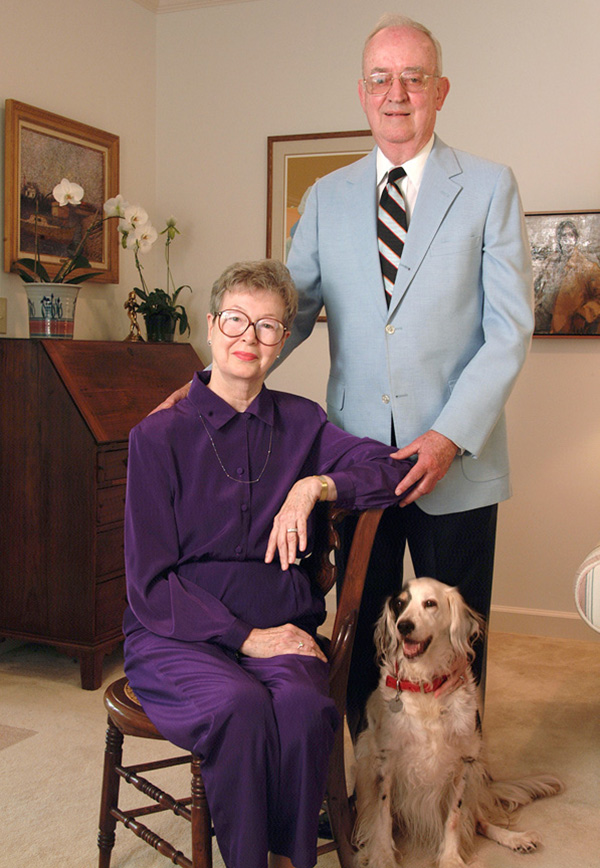 Tom Gwynn, MD '51, and Bee Gwynn, MD '60, developed a deep appreciation for the challenges of medical school and the close-knit sense of community within the Wake Forest School of Medicine family.
Together, the husband and wife made sure their estate plan reflected those priorities to help future generations of Wake Forest medical students through much-needed scholarship support. Through multiple charitable gift annuities they established during their lives, the Gwynns provided approximately $1.6 million to endow the Dr. Thomas L. Gwynn and Dr. Bee Gatling Gwynn Scholarship Fund.
"The Gwynns were happy for their estate to benefit their medical school alma mater that meant so much to both of them," says Bryan Thompson, executor of the Gwynns' estate. "They had no children and no immediate family to inherit their estate, and they recognized the continuing need to support medical students through scholarships."
A Shared Appreciation for Medical Education
Having graduated nine years apart, the Gwynns did not meet in medical school. They met in the 1970s when Bee relocated to Caswell County, N.C., where Tom had followed his father into medicine and from 1964 to 1980, Tom was the county's only physician. After working as a pediatrician in Charlotte, Bee had shifted her career focus to rural public health, which led her to Caswell. The couple married in 1978.
Their individual medical school experiences created a shared appreciation for the challenges involved in medical education.
"I do think the students are under more pressure now," Tom said in a 2001 interview, "because there is so much more to know than when we were in school."
For Bee, personal experiences with the costs of medical education shaped her appreciation. She worked for several years to save money before applying to medical school, at a time when few women attended medical school at all. She ran out of money at the beginning of her fourth year and turned to the dean, Coy Carpenter, MD, for help.
"I went to Dr. Carpenter to explain what had happened and asked if the school could loan me the money or could I perhaps get a year off to earn what I needed to finish," Bee said in 2001. She said Carpenter called a few days later with news that an alumna had agreed to provide her with an interest-free loan. The assistance left her deeply grateful.
Funding a Scholarship
Their paths to gratitude led the Gwynns to give back to the School of Medicine. They endowed their scholarship fund with a gift in 2001 and enhanced the fund with additional contributions.
The Gwynns set up four charitable gift annuities over time. A charitable gift annuity provides a designated charity with a gift, while in return the donor receives a fixed income stream for life from the charity and qualifies for a partial tax deduction for the donation.
The Gwynns also left partial proceeds from their estate, including the sale of their home, to benefit their scholarship fund. The proceeds of that sale, added to their philanthropic giving during their lifetimes, will permanently endow the Gwynn Scholarship Fund.
Giving Back
Until their deaths, the Gwynns remained aware of the continuing financial burden facing medical students and the benefits of giving back.
"Anyone thinking about making a gift to the School of Medicine should realize the tax benefit attached to charitable giving," Tom once said. "It's a win-win situation."
The Gwynns' generosity will benefit Wake Forest medical students in perpetuity.