Steps away. That may be the most important description of the relationship between the new Birth Center at Wake Forest Baptist Medical Center and the new Dale and Karen Sisel Neonatal Intensive Care Unit (NICU) at Brenner Children's.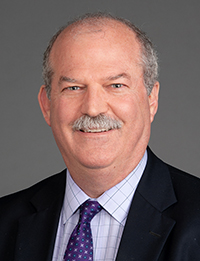 R. Phillips Heine, MD, chair of obstetrics and gynecology at Wake Forest Baptist Health, knows that for all of The Birth Center's amenities, if the need arises during labor and delivery, having emergency care just steps away is vital. He says it is the only facility in the region with this unique range of options for both moms and their babies—top-flight labor and delivery services paired with immediate access, if needed, to specialized NICU and pediatric care.
"Combining labor and delivery options with the newborn and pediatric specialists of Brenner Children's and the resources of an academic medical center allows us to manage both the known and unknown medical needs of mother and child," he says.
The facility was developed with patients and their families in mind. It also included input from Ob-Gyns, midwives and birthing professionals to make sure the new setting was designed in such a way to allow them to serve their patients in the best way possible.
"Our goal is always going to be that our patients get personalized service, and the personalized labor and delivery care they deserve and their infants get the best possible start to life," Heine says.
The Birth Center includes nine triage and four preparation and recovery rooms and four Ob-Gyn procedure rooms. There are 17 labor and delivery rooms, four of which are dedicated to alternative deliveries with certified nurse midwives on staff in a home-like setting.
There is even a special room where adoptive parents and their babies can meet to bond and begin their new lives together.
The Birth Center has two floors, each with its own respite area for on-call physicians and staff that offers a nearby place to rest so they can quickly respond when needed. Lactation consultants and other maternity resources are also located on each floor.
And just across the hall is the new and expanded Sisel NICU with 51 private patient rooms.
"We're able to take care of all patients whether they are low-risk or high-risk," Heine says, "and that's something we can be really proud of."