Members of the fraternal organization Order of the Eastern Star (OES) are aiming to raise $1 million for the Wake Forest Institute for Regenerative Medicine (WFIRM) RegeneratOR Test Bed, and WFIRM researchers are helping by leading online sessions designed to make OES members more knowledgeable as they seek to build philanthropic support.
"These are so helpful for us," Peg Reiterman, an OES leader from Ohio and chairperson of the General Grand Chapter's Regenerative Medicine Committee, said of the online sessions. "People will be on board with us if we can explain what regenerative medicine is making possible." Associate Professor Sean Murphy, PhD, was the latest WFIRM researcher to lead an OES talk. In October 2021, committee members from seven states tuned in as he answered questions and spoke in lay terms about his work. He discussed organ-on- a-chip technologies for disease modeling and drug discovery, cell therapies to minimize scarring from injuries and 3D bioprinting of skin and other organ cells.
OES support for WFIRM began with a successful fundraising campaign from 2015-18 that generated nearly $750,000. A new three-year campaign, running through 2024, began in November 2021. The 16-member OES committee will promote regenerative medicine and the work of WFIRM throughout the U.S., Canada and the world.
"Everyone is so anxious to hit the ground running, and we have adopted the name Team RM (Regenerative Medicine) as our official mantra," Reiterman said. "We will repeat it over and over because we are such believers!" Reiterman's Ohio chapter made regenerative medicine and WFIRM a permanent focus of its charitable work in 2019. In 2020, the chapter presented a $40,000 check to WFIRM Director Anthony Atala, MD. In 2021, Reiterman said the chapter raised more than $45,000 for WFIRM.
She said the committee's members are eager to "supersize" the $1 million goal and surpass it.
"We have used 'WFIRM + OES = IMAGINE' as a slogan," she said. "For us, it captures how this amazing partnership can change the world and help mankind to not just treat but cure through regenerative medicine."
OES is the largest charitably focused fraternal organization in the world, with approximately 10,000 chapters in 20 countries and approximately 330,000 members under its General Grand Chapter, which is headquartered in Washington, D.C. It has raised millions of dollars to support national and local charities that have helped improve lives around the world.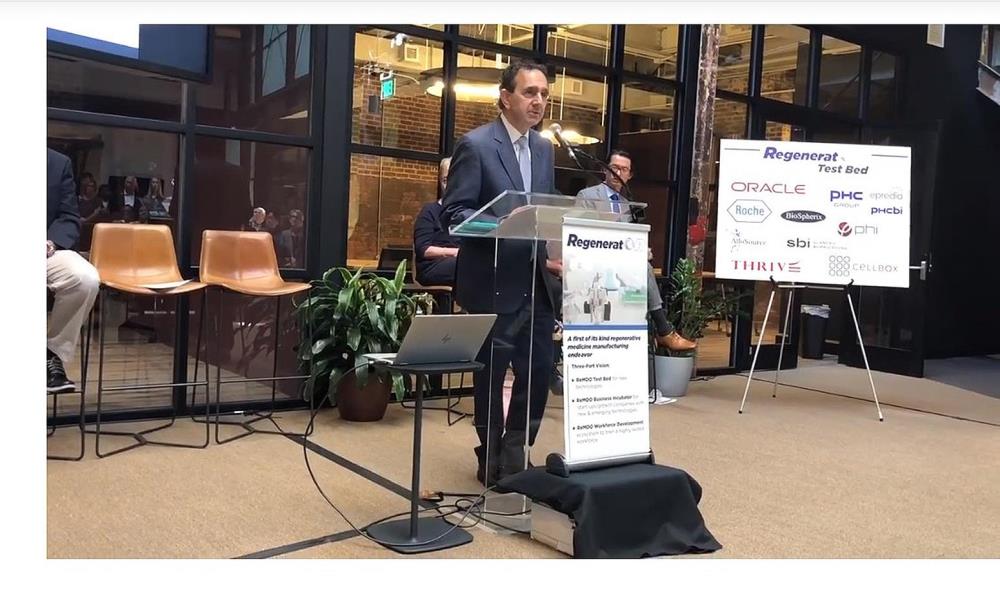 Effort Combines Economic Development, Regenerative Medicine
The RegeneratOR Test Bed has officially launched, bringing together resources to advance the regenerative medicine field nationally and create an economic development engine for the region and the state.
The announcement of the RegeneratOR Test Bed comes from two driving forces of the regenerative medicine field: the RegenMed Development Organization, a nonprofit foundation headquartered in Winston-Salem and dedicated to advancing the field nationwide, and the Wake Forest Institute for Regenerative Medicine (WFIRM), the world's largest regenerative medicine institute.
The RegeneratOR Test Bed, located in the Innovation Quarter, will serve as an economic development driver, helping to accelerate the growth of start-ups and scale up mid-to-large-sized companies with innovative and emerging technologies. Access to state-of-the-art biomanufacturing equipment, industry expertise, and talent to support novel prototyping and commercial product development is available.
"Many of these companies are dedicated to a broad range of technologies, such as 3D printing, and cell and tissue therapies. Additionally, there are also businesses supporting the field in areas such as the production of reagents and diagnostics," said Anthony Atala, MD, director of WFIRM. "We believe this region has a lot to offer in terms of helping these companies be successful, and, at the same time, we can advance the regenerative medicine field nationally."
The RegeneratOR is a key component of the established Regenerative Medicine Hub (RegenMed Hub), an ecosystem that brings together and draws upon the resources and talent available through the Innovation Quarter and includes regenerative medicine-focused entities dedicated to advancing the field nationwide. A number of regenerative medicine start-ups and established companies already operate in RegenMed Hub and the region, offering expansive resources for entrepreneurs and life-science professionals.
Research Holds Promise for Hemophilia A Treatment
While people with severe Hemophilia A can be treated with Factor VIII replacement products two to three times a week throughout their lifetime, this treatment is short-lived, expensive and not always available. Wake Forest Institute for Regenerative Medicine (WFIRM) researchers are investigating the possibility of using a patient's own cells as vehicles to deliver long-lasting Factor VIII protein to treat their disease.
This study investigates the use of amniotic fluid-derived, neonatal and adult cells, and is the first in-depth analysis of any of these cell types for their use to deliver the Factor VIII protein. The research team also conducted the first detailed look at the levels of production of Factor VIII and its carrier protein, vWF, inside each of these cell types. The challenge for the researchers was to identify cells with the capability to create fully functional Factor VIII, which is a large and complex protein.
"We focused our investigation on cell types that we deemed to be most relevant to either prenatal or very early postnatal treatment and that could, ideally, come from the patients themselves," said senior author Graça Almeida- Porada, MD, PhD, a professor at WFIRM. "There is an urgent need for more effective, readily available and affordable treatments that provide long-lasting correction."
The study was published in the journal Frontiers in Cell and Developmental Biology.