When Pfizer's COVID-19 vaccine was granted emergency-use authorization by the U.S. Food and Drug Administration in December 2020, Wake Forest Baptist Heath was one of the first sites in the nation to receive the first doses.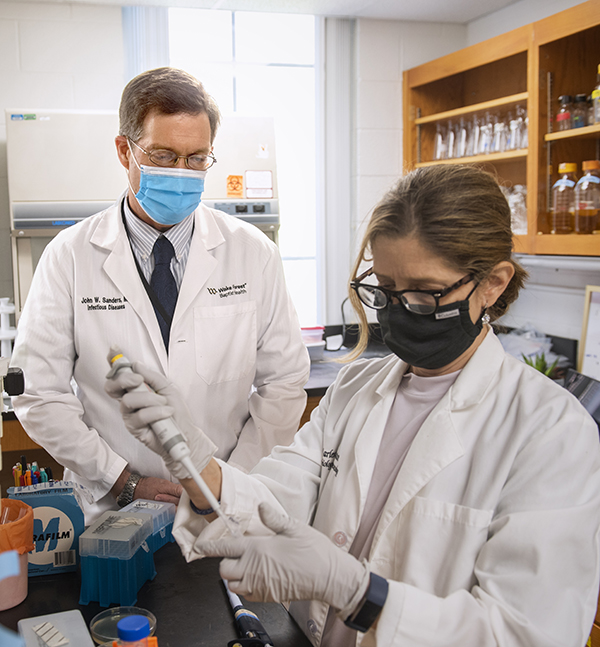 The health system was chosen based on its high level of preparedness and its capacity to provide cold storage for the vaccine. It was a moment when years of preparation and funding paid off, placing Wake Forest Baptist, its researchers and medical professionals in the right place at the right time to help lead the response to a global pandemic.
"It's incumbent upon academic medical centers to step up and answer important medical and public health questions, not just when we have a pandemic or a new crisis like COVID-19 but also when we have more subtle epidemiologic events like the opioid crisis, heart disease or aging," says John Sanders, MD, chief of infectious diseases with Wake Forest Baptist.
"Our academic health system is involved in all of those areas. I'm very proud that Wake Forest Baptist not only has stepped up to meet that obligation but really did so faster than almost anybody else in the nation and has taken a lead role in answering important questions."
Research and Vaccine Trials
Before any COVID-19 vaccines received approval, Wake Forest Baptist researchers were already engaged in the process. In August 2020, the health system partnered with Javara to begin recruiting healthy adults for the COVE Study, a Phase 3 clinical research study to evaluate the safety and effectiveness of the COVID-19 vaccine produced by Moderna.
The study includes healthy volunteers ages 18 or older in high-risk populations, including the elderly, racial and ethnic minorities at higher risk for COVID-19, and essential workers in close contact with potentially infected persons. Wake Forest Baptist is one of 89 research sites across the country participating in the randomized trial that is scheduled to last for 25 months. It includes more than 30,000 people nationally.
Sanders, the study's principal investigator, calls it "one of the most important and impactful clinical research studies in our lifetime."
"It certainly appears to be very safe, and we expect it to be very safe long term," he says. "It's very efficacious for the first several months, and we expect that will last a while, but we're not really going to know until we get more data from our volunteers, who have been great in taking the vaccine or the placebo early. I expect they will continue to be great as we follow up over the next two years so we can contribute that really important piece of information."
Partnering with the Community
Sanders is also involved with the COVID-19 Community Research Partnership, a broad, epidemiological study of patient volunteers being led by Wake Forest Baptist. It links to patients' electronic health data and allows for daily tracking of symptoms and contacts across a wide range of geographic regions, including rural and metropolitan areas. Real-time data is shared with the state and the Centers for Disease Control and Prevention (CDC).
The study has more than 30,000 volunteers in North Carolina alone. With funding from the CDC, the study includes Wake Med, New Hanover Regional Medical Center, Vidant Health and Campbell University in North Carolina, Medstar in Washington, D.C., the University of Maryland in Baltimore, the University of Mississippi and Tulane University. The study was built in partnership with Atrium Health, LabCorp, UPS and Oracle, among others, and includes more than 100 faculty and staff.
"We honestly did not expect vaccines to be so effective so early and to roll out so quickly, so we are evolving the study now to track the impact of the vaccines on the pandemic and on individuals," Sanders says. "That means new questions on the daily surveys, new tests to monitor multiple different antibodies targeting both the vaccine and natural infection, and collecting additional samples to look at other biomarkers of infection and inflammation."
Sanders expects the community study to continue through summer 2022, with data analysis and research extending years beyond that.
Leading through Academic Medicine
Sanders credits scores of researchers and thousands of volunteers for making such research work possible and successful.
"It's been mind boggling how many people have contributed so much as researchers and as volunteers," he says. "I could not be more impressed with the entire Wake Forest Baptist community from patients all the way through executive leadership."
He also acknowledges the years of work and research investments that made the pandemic response seem so quick.
"The decades of work it took to build an agile vaccine program that could rapidly develop a new vaccine for a new pathogen, test it and get it out has been a spectacular success," he says. "The scientists who have worked on that nationally deserve enormous credit, but I think we need to recognize they built on work that's been going on for decades."
The need for continued scientific investments will continue, he says.
"This is not going to be the last new infection or new pathogen we see," Sanders says. "We're going to continue to work with our sponsors and funding partners to develop new technologies, testing, treatments and vaccines, and we need help."
Sanders notes that infectious diseases is one area at Wake Forest Baptist without an endowed faculty position. Endowed faculty positions are critical in helping academic health systems recruit and retain clinical and research leaders.
"We have the benefit of an initial endowment that supports start-up research projects, however much more is needed to sustain the type of work and science required to protect from something as significant as COVID-19," Sanders says. "We are in a position where we need philanthropic support to take the next step in attracting more researchers and conducting the sort of research that puts Wake Forest Baptist among the national and international leaders in this field."
---
Health System Partners with Community on Masks
Collaborations between Wake Forest Baptist and two leading apparel manufacturers to design face mask products highlighted the health system's ability to develop new and innovative relationships to benefit people across the country, especially as mandates to wear face coverings became widespread.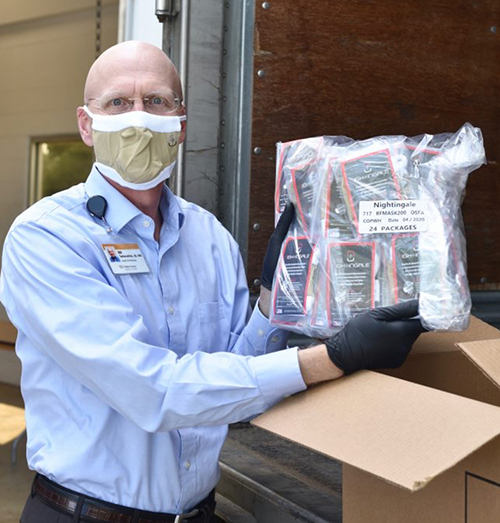 Wake Forest Baptist teamed up with Renfro Corp. to design and manufacture the Nightingale™ Mask for consumers, and with Kitsbow on the Wake ProTech by iQ Healthtech™ Reusable Face Mask for frontline workers in critical industries.

Both endeavors were enabled through iQ Healthtech Labs, Wake Forest Baptist's healthtech business enterprise operated through the Innovation Quarter. iQ Healthtech Labs was formed to facilitate partnerships between outside industry and the anchor institutions that exist within one of the leading innovation districts in the world.

The development of both masks also leveraged the expertise of Wake Forest Baptist's BestHealth For Business team, led by William M. Satterwhite, MD '97, the health system's chief wellness officer. Satterwhite's team came together to start prototyping masks within days of government stay-at-home orders, then paired with Renfro and Kitsbow to advance their designs to the marketplace.

"Early on in the COVID-19 pandemic, our internal research identified a wide range of efficiencies in face masks, both homemade and commercially manufactured," Satterwhite says. "We were delighted to join our clinical and research knowledge with the design and manufacturing expertise of these companies and to utilize our relationships within Innovation Quarter and iQ Healthtech Labs to develop comfortable and attractive masks that we have confidence in as health experts."