Donna Lynn Eaton, RN, and Catherine E. Staplefoote, PA-C '07, may never have met one another but their lives have more than a few things in common. Both worked in health care and both inspired others to give after their lives ended much too soon.
Scholarships established in their memories at Wake Forest Baptist Health are ensuring that nurses and PAs will continue to receive the kind of excellent training that served Eaton and Staplefoote so well during their careers. In their memories, their families and friends have created legacies.
Honoring Donna Eaton
From 1990 to 1999, Nancy Texares worked as an AirCare flight nurse at Wake Forest Baptist, where she became friends with Eaton, a fellow flight nurse.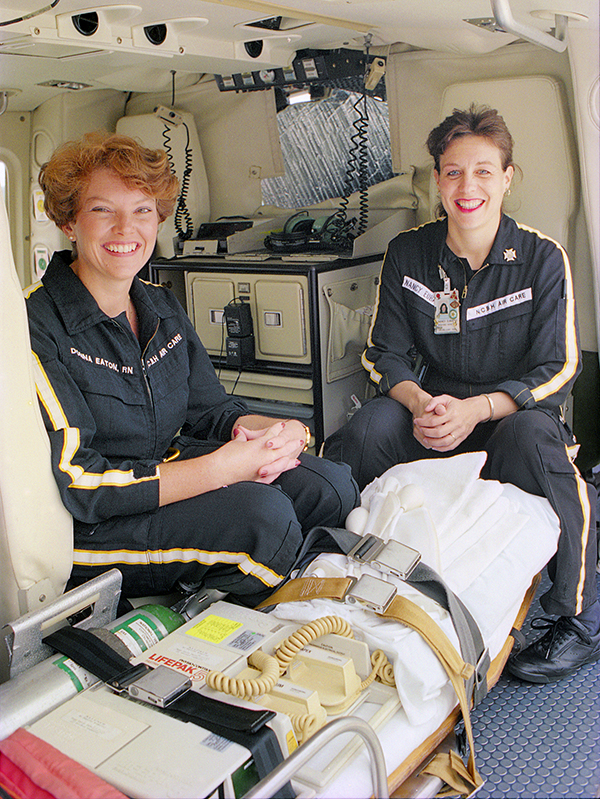 "I loved flying with Donna and learned so much from her," says Texares, who at the time was known as Nancy Tippett Eubanks. "She had a great personality and excellent nursing skills. It was a very sad day when this crash occurred and changed all our lives."
On April 22, 1994, a helicopter carrying Eaton and three others crashed in the Virginia mountains while en route to West Virginia to pick up a kidney patient. All four on board were killed. Eaton, a resident of Advance, N.C., who had worked with AirCare since 1987, was 33.
In the wake of her death, Eaton's family established the Donna Lynn Eaton Scholarship to support nursing education at Wake Forest Baptist.
"I always contribute every year to her scholarship but have always wanted to do more for all the nurses who need assistance in training for this wonderful profession," Texares wrote in a letter she sent in July to Wake Forest Baptist's Office of Philanthropy and Alumni Relations. Along with the letter, she sent a gift of $10,000.
"At this time in my life, I am able to provide more than the usual donation and want this all to go to the Donna Lynn Eaton Scholarship," wrote Texares, who now lives in New Mexico with her husband, John. "I have very fond memories of Donna, her brothers and her parents. They are wonderful Christian people, and I am sure they will use this donation to continue to memorialize Donna in a very special way."
Colleagues Memorialize Staplefoote
Staplefoote was a native of Winston-Salem and a graduate of Winston-Salem State University, where she majored in biology and minored in chemistry. After college, she worked in a physician's office, where she became inspired to become a PA, and she chose to attend the highly competitive PA Program at the Wake Forest School of Medicine.
Following graduation, she worked for two years at a pulmonology practice in Charlotte before accepting a position with OrthoCarolina in Winston-Salem. Returning home allowed her to serve as a preceptor for the school's PA Program.
"She was the epitome of care," says Julia Mayo, PA-C '07, Staplefoote's classmate and colleague. "She always had such glowing reviews from patients. Everyone loved her."
Following Staplefoote's death in July 2020 at age 41, her friends and colleagues at OrthoCarolina Winston-Salem established the Catherine E. Staplefoote, PA-C Scholarship Fund to honor her memory, her work and her presence in their professional lives.
"It was something those of us at OrthoCarolina wanted to do for Catherine, in honor of what a great PA and person she was over the last several years she worked with us," Mayo says. "All the doctors and PAs felt compelled to do this in honor of her."
The fund will provide a scholarship to one student enrolled in the PA Program who exhibits Staplefoote's qualities of compassion and leadership. A preference will be given to students who demonstrate financial need.
Memorial gifts to the scholarship fund can be made online at WakeHealth.edu/giving, by choosing the Wake Forest School of Medicine – Physician Assistant Program and selecting the Catherine E. Staplefoote, PA-C Scholarship Fund.
Establishing a Memorial Scholarship
If you would like to establish or support a scholarship in memory or in honor of an outstanding medical professional, contact Teri Lemons in Wake Forest Baptist's Office of Philanthropy and Alumni Relations at 336-716-4589 or philanthropy@wakehealth.edu.