Most people recognize STEM as the acronym for science, technology, engineering and math—subjects considered vital to preparing future generations for productive careers.
"I'll give you a different acronym for STEM—Strategies That Engage Minds," says Stanford Hill, PhD, who directs the Wake Forest School of Medicine's Center of Excellence for Research, Teaching and Learning (CERTL). He says that's the official acronym used by the North Carolina STEM Center.
"If you adopt that definition, then STEM goes beyond a typical math or science class and gets into the whole idea of inquiry learning, which is what this institution is based on," Hill says.
CERTL is one example of the medical school's commitment to fortifying the pipeline for those interested in STEM fields.
STEM at the Scholastic Level
In the mid-1990s, CERTL was one of 13 centers created across the country to encourage STEM education. Originally, it was a cooperative venture formed among the School of Medicine, Winston-Salem State University and the Winston-Salem/Forsyth County Schools.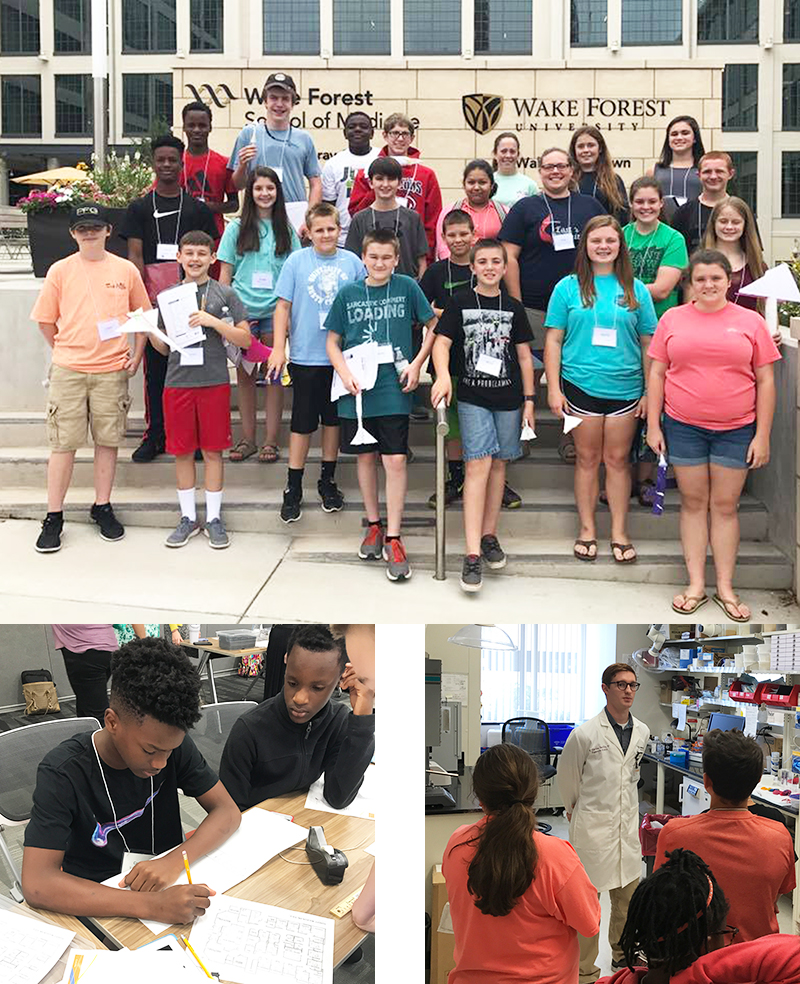 "When the original money from the National Institutes of Health (NIH) and National Science Foundation (NSF) ran out, they all folded," Hill says of those original programs. "We had leaders at this institution who had a different and better vision, and we built a sustainability model way back then. Of the original 13, Wake Forest is the only one that remains."
Today, CERTL functions as a partnership with the University of Texas at Dallas. Wake Forest School of Medicine focuses on problem-based learning, drawing from what Hill calls the world's largest repository of problem-based learning resources at the medical school. UT-Dallas focuses on project-based work.
Together, they offer STEM-focused resources for K-12 teachers, students and school systems across the country.
One of CERTL's latest programs focuses on girls in middle school. Almost twice as many high school boys as girls plan to major in STEM subjects in college, according to the National Science Board. A three-year grant from the Burroughs Wellcome Fund's Student STEM Enrichment Program is funding a program for 40 middle-school girls in Davidson and Surry counties to encourage STEM education and careers.
Hill says that maintaining such programs poses challenges for CERTL and opportunities for donors. When the original funding source expires, additional money is needed to sustain those programs.
Hill worked in the public schools for 30 years and supervised STEM initiatives in Winston-Salem/Forsyth County. As an educator, he sent teachers and students to CERTL because he believed in the program. When he retired from the school system 15 years ago, he joined CERTL, where he has served as director for the past five years.
The latest program he's championing is Best SELF (Supportive Enrichment and Learning for Families), part of the BestHealth For Us program for employees at Wake Forest Baptist Health. It delivers health services for employees and develops academic enrichment and support programs for their children, from elementary through high school.
As with all of CERTL's work, he says it's about reaching kids early in their academic development.
"For me, it's more a matter of preparing students regardless of what career they choose, whether it's health care or not, they'll be able to do it," Hill says.
STEM for College Students
Since its inception in 2004, the Wake Forest Institute for Regenerative Medicine (WFIRM) has offered a 10-week Summer Scholars program. It engages college undergraduates in STEM-focused, multidisciplinary, translational regenerative medicine research at WFIRM, along with professional development and networking opportunities.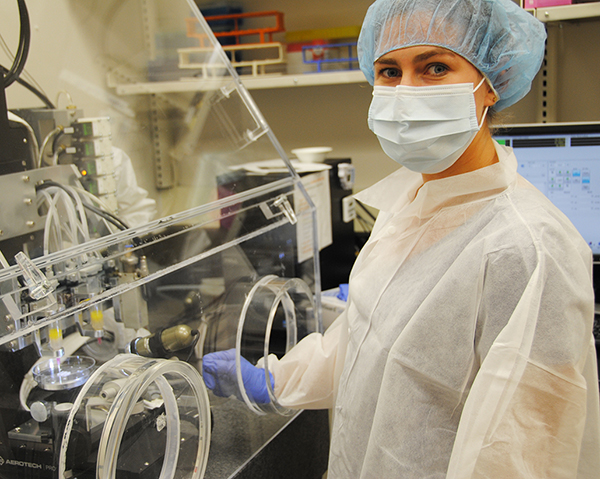 Of the program's 22 annual scholars, 12 were selected last year to present their research at national scientific meetings. Joan Schanck, MPA, who leads education efforts at WFIRM, says the program is highly competitive, with more than 300 applicants for the 2019 program, scheduled for June 3 to Aug. 9. About 80 percent of those who take part pursue a medical or doctorate degree.
"A lot of students come to us because they are interested in a biomedical science field, but they don't know if they want to be a clinician, a physician scientist, a basic scientist or if they're more attracted to industry," Schanck says.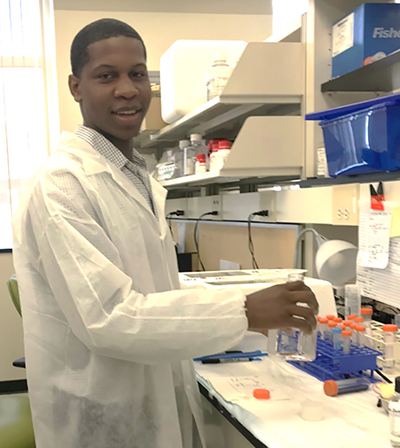 Our goal is to help them find their pathways, have access to things they will need and try to open up a world of opportunities for them in STEM fields that are not just the traditional ones and, moreover, are the fields of the future."
Students engage in research projects that are focused on such areas as biomaterials, cell and molecular biology, physiology, biomedical engineering, controlled release systems, biochemistry, cell and gene therapy, and tissue engineering. The scholars conduct research under the supervision of leading biomedical scientists at WFIRM. They write a research summary, complete an oral presentation and have the opportunity to see their work published.
"My experience confirmed my resolve to continue to pursue my undergraduate degree in biomedical engineering as well as engage in future research," says Rawdah Elbahrawi, now a junior at the University of Alabama at Birmingham who participated in the 2018 program. Her project involved muscle tissue regeneration.
"Although I am unsure of the specific disciplinary path and advanced degree I want to pursue post-graduation, my experiences at WFIRM will guide my decision-making and my future as a scientist. I am thankful for everyone at WFIRM for the opportunity, guidance and knowledge. I also made lifelong friends."
Based on her Summer Scholars experience, Elbahrawi was selected to participate in the Council on Undergraduate Research's Research Experiences for Undergraduates Symposium in October 2018.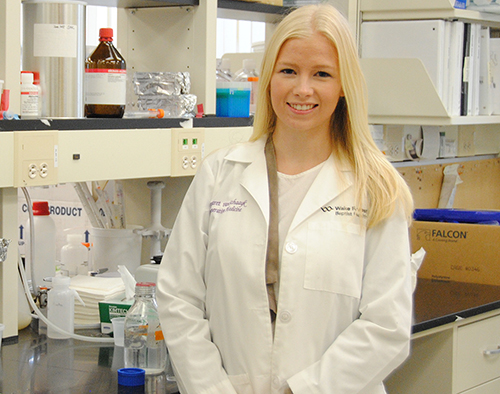 Schanck says the great value of the program lies in the overall, real-world research experience, not just the activities.
"From basic science to translational research and on through to manufacturing, everything is concentrated at WFIRM," she says. "These students become an engaged, interactive cohort learning about their particular project, but they're also seeing how team science works. That is STEM in action!
"There is really no other institute enrichment program that does everything like that under one roof."
Summer scholars receive a $5,000 stipend and a housing allowance. NIH and NSF grants cover much of the program's costs, with institutional funding and generous endowed gifts from donors covering the rest.
"With the NIH and NSF funding, we are at the mercy of the political winds and federal budgets, and it's really our donors and our sponsors who have both enabled us to start and continue to present this program," Schanck says.
"We've had a number of donors who are very involved. It's prestigious for our scholars because of the connection with the NIH and the NSF, but it's quite different for them to meet a family member who's been impacted by a certain disease or who's really passionate about supporting that research. It personalizes it for them."
Although designed for undergraduates who are majoring in science fields, program leaders work to keep enrollment diversified.
"We try to balance our programs and include students who are very excited and seem inspired but just haven't been given the academic tools," Schanck says, "because STEM is for everyone."