In March, Coach Jim Caldwell, Anthony Atala, MD, and researchers from the Wake Forest Institute for Regenerative Medicine (WFIRM) got the opportunity to meet a group of former pro football players who could benefit directly from their research into osteoarthritis (OA).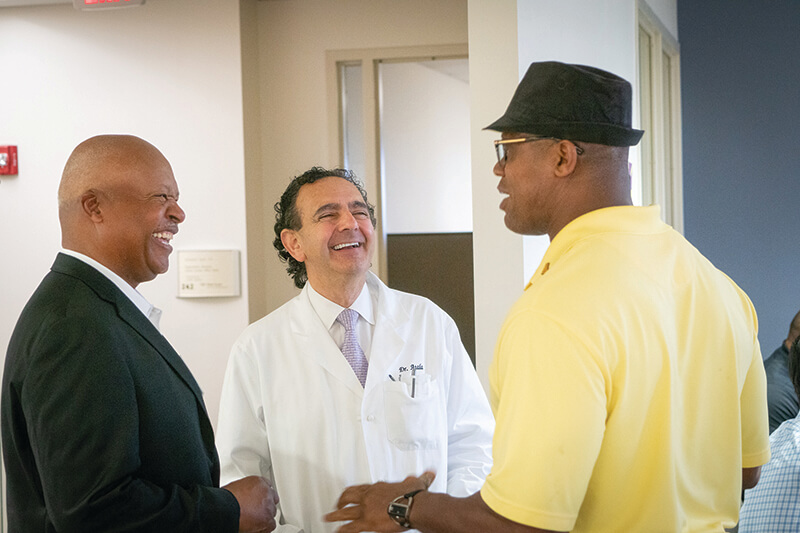 NFL Day at WFIRM brought 30 former players to Winston-Salem to discuss the joint pain they experience daily and to learn about research advancements that may one day help them. Beyond potential joint replacement surgery and medication for pain, there are no long-term solutions available for most of these former pros, some of whom are as young as their early 30s. Given their age, if they receive joint replacements now, most if not all would need additional joint replacements later in life.
"It was very important to learn how the former players' injuries and diseases have shaped their lives," Johanna Elin Marie Bolander, PHd said of the event, which was organized with the help of former Wake Forest University and NFL head coach Jim Caldwell. "Many of them offered their health to the team and the sport, just like many people in other professions such as the active military, and now they suffer from severe health issues. It is so incredibly important that we work on reliable solutions that can help them in the clinic."
Many former elite athletes suffer from OA. Current treatments have focused on anti-inflammatory injections that temporarily relieve pain. Bolander said WFIRM researchers are developing a treatment that targets the inflammation in the joint while also addressing the damaged cartilage and subchondral bone.
Changing the Game
"We think it's a game-changer," she said. "It's a treatment that targets all the factors that are playing a role in the development of OA and can help provide a long-term solution, instead of only addressing one aspect of the disease. If the inflammation remains, in time, it will lead to even more cartilage deterioration, and if you only treat the inflammation, the cartilage is still damaged." Many of the players expressed how eager they are for a treatment breakthrough as an option to injections and joint replacement.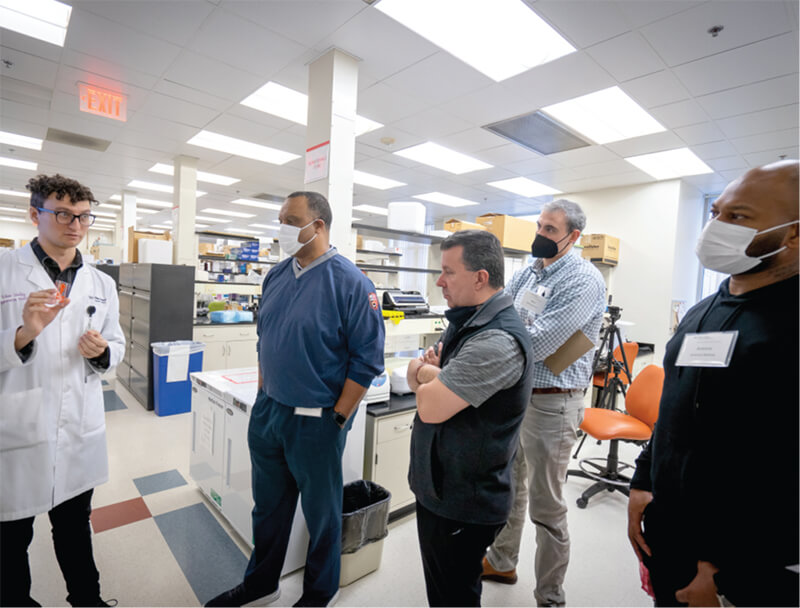 "For us, this is an ideal population," Bolander said of the former players. "You have your patients at 2 stages. There is the early stage where you would like to intervene to avoid severe OA progression, and there is the severe OA where you provide a treatment to avoid total knee replacement. In this group, they are all arranged from early and mild OA to severe OA. It's a group that we will have treatments for but in different stages of disease."
The researchers are working toward gaining US Food and Drug Administration approval for their treatment. Bolander said hearing the players' stories firsthand left a strong impression. She also emphasized that research advances will depend on additional funding. With more funding, the sooner the treatments can reach the clinic.