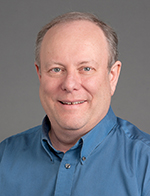 Edward G. Shaw, MD, MA, professor of gerontology and geriatric medicine and founding director of the Memory Counseling Program at Wake Forest Baptist Health, has retired.
Shaw was chair of radiation oncology at Wake Forest Baptist when his late wife Rebecca was diagnosed with early onset Alzheimer's disease. The diagnosis spurred him to shift careers, earn a master's degree in counseling at Wake Forest University and launch the program at the Sticht Center for Healthy Aging and Alzheimer's Prevention in 2011.
The program offers a team approach to support people living with cognitive impairment or dementia and their family care partners. Philanthropic gifts cover about half of the program's costs. Many current and former clients and families give to the program to help make sure others who are going through similar journeys have access to its services.
Shaw also co-wrote the books
Keeping Love Alive as Memories Fade: The 5 Love Languages
and
The Alzheimer's Journey
.