This year's annual Winterlark fundraiser to support cancer patients at Wake Forest Baptist Health's Comprehensive Cancer Center raised more than $375,000, achieving a new record high while seeing that no one faces cancer alone.
The event took on an entirely new look this year, as it was reimagined into a month-long campaign. Due to COVID-19, the 38th annual gala event was replaced by a "virtual campaign" held throughout the month of February. It included a new peer-to-peer fundraising campaign, highlighting more than 40 champions in the community who personally raised funds for cancer patients.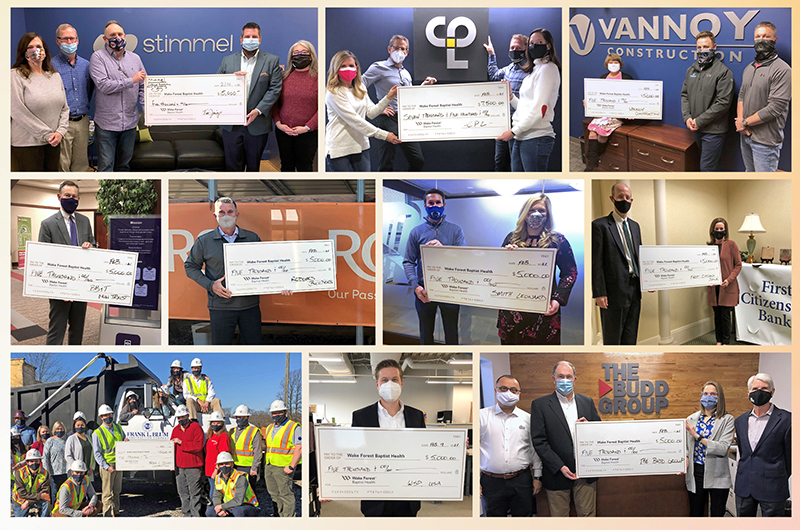 In addition to its corporate sponsorship, presenting sponsor Allegacy Federal Credit Union also helped raise an additional $50,000 through its peer-to-peer team. Over 50 corporate sponsors participated in growing the event's community of giving. Ashley and Matt Kohlrus and Sarah and Coleman Team served as Winterlark 2021 co-chairs and will continue as co-chairs for the 2022 event. Allegacy will again serve as presenting sponsor.
A virtual celebration of Winterlark 2021 was held on March 6 to recognize fundraisers and highlight a touching patient story from cancer survivor Catherine Clawson and her husband, Dave Clawson, Wake Forest University head football coach.
"Although we were unable to gather together at our traditional gala event, Winterlark was an outstanding success," says Lisa Marshall, chief philanthropy officer and vice president of Philanthropy and Alumni Relations for Wake Forest Baptist. "It is incredible to see how Winterlark and its vital role in sustaining the Cancer Patient Support Program continues to grow in partnership with our community. We are truly grateful for the many volunteers and sponsors who help ensure that our cancer patients have access to the program's invaluable resources."
The Cancer Patient Support Program provides counseling, patient education, support groups and other holistic services to cancer patients and their families, free of charge. The program, which began in 1980, is widely recognized as a best practices model for cancer centers nationwide.
"The Cancer Patient Support Program is a beacon of hope for cancer patients, their families and friends," says Richard P. McQuellon, PhD, SP-P, director of the program. "Winterlark raises awareness and funds that allow us to continue to provide the patient- and family-centered care and resources that ease their cancer journey."
The virtual celebration of the 38th annual Winterlark fundraiser can be viewed online at WakeHealth.edu/Winterlark.
Corporate Sponsors
421 Builders
Advanced Fraud Solutions
Allegacy Federal Credit Union
BB&T, now Truist
Blakley Landscape Services, Inc.
Blanco Tackabery
Brasfield & Gorrie LLC
The Budd Group
Cenero
Commercial Realty Advisors
CPL
Cushman & Wakefield
Delta Dental of North Carolina
First Bank
First Citizens Bank
First Reliance Bank
Fiserv
Frank L. Blum Construction Company
Front Street Capital
Garner Foods
Hanesbrands
HKS, Inc.
I. L. Long Construction Company, Inc.
Inmar
Johnson Controls
The Kafafian Group
Kilpatrick Townsend & Stockton, LLP
Landmark Builders
Little
Mercedes-Benz of Winston-Salem
Mountcastle Insurance
MTS Mechanical
NCR
Nexsen Pruet
Piedmont Federal Savings Bank
PixelSpoke
PSCU
Ramey Inc