Economic trends and family priorities may change over decades, but the inspiring power of a mentor or hero, or your own forward-thinking vision, can always remain strong and active through endowment giving.
Your endowed fund is your lasting signature. It is your assurance that a fund will be named and spent toward the work you value.
Endowed funds provide sustained support, in perpetuity, for the key elements of our mission: recruiting talented students and faculty, generating leading-edge research, and providing expertise and compassionate care for patients in our region and nation.
Minimum funding requirements for endowed funds vary depending on the nature of the gift. In establishing an endowed fund, you as a donor decide the purpose and name of the fund.
In 20 years, or likely fewer, an endowment will generate more spendable income than the original gift.
The named fund continues to grow, ensuring compassionate, skilled care for generations of patients in the name of the donor's beloved parents.
Endowment Giving Is a Historic Legacy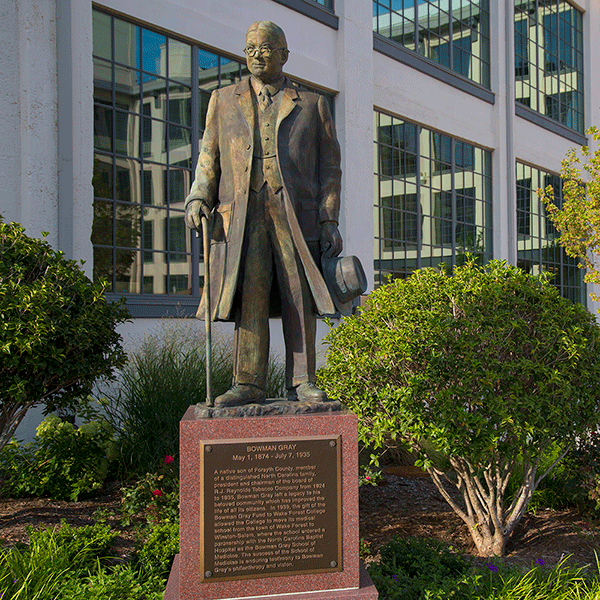 When Bowman Gray Sr. president and chairman of R.J. Reynolds Tobacco Co., died in 1935, his considerable wealth was left to the region where he made his fortune. The language of the bequest stated the gift was, "to be used for a charitable endeavor to help the people of Winston-Salem and the surrounding region."
Under the stewardship of the Gray family, those funds helped create in Winston-Salem one of the 20th century's preeminent academic medical centers.
Wake Forest School of Medicine—which for generations was shaped by the family's philanthropic legacy—trains students who will care for people in the city and the region that Bowman Gray once called home. Some will take their compassion and their ability far beyond, as Wake Forest Baptist Medical Center serves the state, the nation, and the world as a leading academic medical center.
Programmatic Support
There are many types of institutes and centers within Wake Forest Baptist Medical Center.
An endowment ensures the long-term viability of the program and/or research within the unit.
Please discuss the required minimum investment with your Philanthropy and Alumni Relations representative.
Faculty Leadership
An endowed gift for faculty leadership recognizes the achievements of exceptional faculty members by providing resources and time for research, education, and patient care. It ensures that an institution can attract and keep outstanding faculty, achieve advances in treatment and science, and help prepare the health care leaders of the future.
Institute/Center Directorship
Chair
Faculty Scholar
Professorship
Fellowship
Lectureship
Research and/or Education Fund
Award for Faculty or Resident
Medical Education Support
Endowed scholarships support our role as an academic medical center to inspire students toward their goals as future health care professionals where they will touch thousands of patients, improving lives year after year. They will join generations of physician leaders educated in the Wake Forest Baptist tradition of rigorous training, innovative research, and compassionate patient care.
Distinguished Scholarship
Partial Scholarship
Current Award for Student