The service organization regularly adopts charitable causes for three-year fundraising campaigns among its membership, which includes thousands of chapters across North America and beyond. But the individuals who carried out the fundraising objective from 2015-18 in support of the Wake Forest Institute for Regenerative Medicine (WFIRM) say they have never experienced anything quite like it.

"This is about an individualized approach to medicine," says Jack Campbell, an OES member who helped raise money from his district of Maryland, Virginia and Washington, D.C.

"It's about the soldier who needs body parts, like a limb or a bladder or another organ because of a battlefield injury. It's about a child with cystic fibrosis who could benefit from gene therapy and have a life expectancy beyond their 30s. This is medicine for all generations and for the future."

That focus on the future and potential of regenerative medicine helped transform a campaign that was expected to raise $25,000 into an effort that generated almost $600,000.
A Most Worthy Campaign
The OES, established in 1850, is open to men and women of all religious beliefs and is the largest charitably focused fraternal organization in the world. It has approximately 10,000 chapters in 20 countries and approximately 330,000 members under its General Grand Chapter, which is headquartered in Washington, D.C.

It has raised millions of dollars to support national and local charities that have helped better the lives of people around the world. In particular, the OES has supported medical research, including work in Alzheimer's disease, juvenile diabetes and juvenile asthma.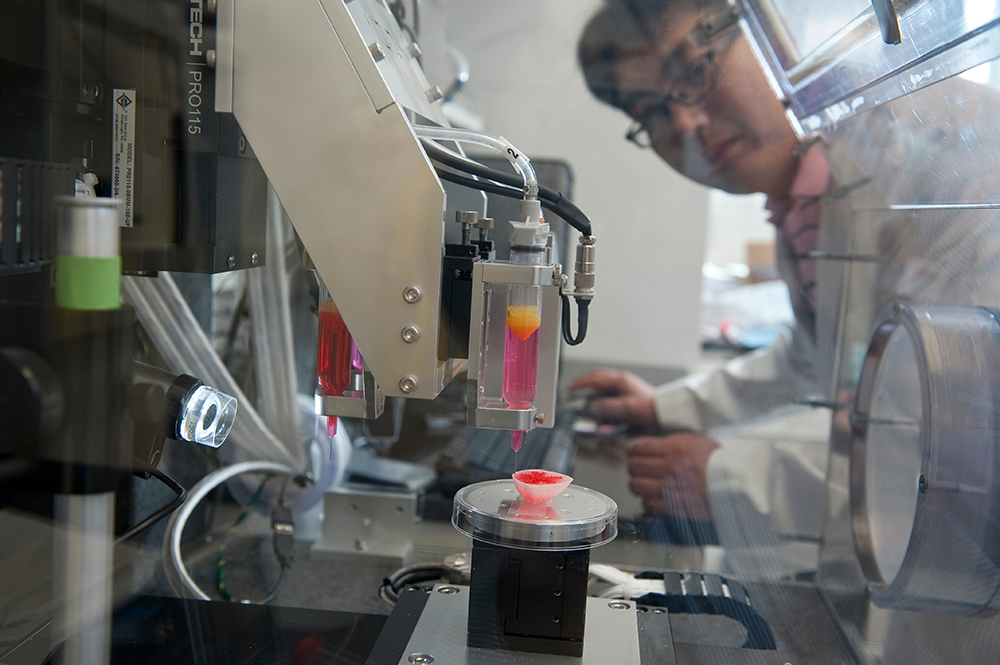 From 2015-18, under the direction of Helen J. Westmoreland, the Most Worthy Grand Matron of the General Grand Chapter, the OES chose to support research in regenerative medicine and to direct that support to WFIRM. Westmoreland had learned about WFIRM through a friend, and a tour of WFIRM and her experience as a military wife and mother convinced her to support it.
The "WFIRM + OES = IMAGINE" campaign drew support from state and international chapters as well as chapters within each state. Chapters held fundraising events and encouraged members and others to donate. The events included barbecues, silent auctions, sales of notecards, pins, fans and other items, and three cruises, two to the Caribbean and one to Hawaii, for OES members. The cruise attendees invited WFIRM researchers to join them on the cruise and present their work, and the conversation and interactions between the two were a high point for both.
"The cruises were my dream," says Ohio resident Peg Reiterman, member and owner of a travel company with an OES district that included Indiana, Maine and Ohio. "I thought it would be a fantastic way to not only hear about WFIRM but to be able to meet the doctors who could share their knowledge firsthand with a room full of laymen learners. It was absolutely amazing how well it worked."
Medicine of the Future
Fundraising didn't come naturally to everyone involved, such as John Kibler, PhD, a Pennsylvania resident whose OES district included New Hampshire, Pennsylvania and Vermont.

Kibler says, "The goal was to make the membership aware of what WFIRM was doing."

After being asked to serve on the fundraising committee, he spent six weeks researching WFIRM. Like many committee members, he organized informational presentations, including a video showing work being done in WFIRM labs.

"Since I had several family members die of cancer and I could see where the natural progression is going with this capability, I could not say no," he says. "I took the committee appointment because I know this research is going to affect thousands and thousands of people all around."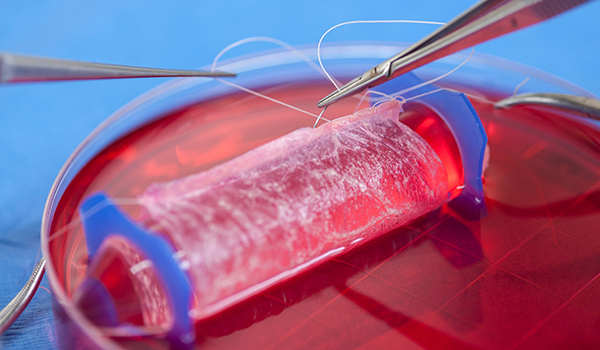 Regenerative medicine's long-term potential particularly resonated with Campbell, a native of Mount Airy, North Carolina, who joined OES just before graduating from Wake Forest University in 1981. The retired Navy captain survived a bout with cancer, diagnosed in 2015, but he says the treatments he received cost him his hearing, taste, half of his saliva glands and about 50 pounds. He visited WFIRM and spoke with its researchers, and was overwhelmed with the promise of regenerative medicine.
"The more you talked with people about it, the more they understood the potential impact this could have on future generations," says Campbell, who now works at the Pentagon with the Department of Defense. "This is what medicine will look like in the future."
'Champions of the Cause'
Michael Cornell, chairman of the OES fundraising committee, was pleased with what they accomplished.

"We were successful, and this was a new field for most of us," says Cornell, a northern California resident whose district included Arizona, California, Nevada and Oregon.

"Regenerative medicine is not normally something you think of as a charity. We gained momentum as we went through the three years and our members learned what WFIRM is all about. As people learned what a big impact this medical research could have on helping people, they were glad to support it."

Kibler says he was impressed that even modest investments can make a difference.

"I learned how important smaller amounts such as $10,000 could be. That seed money is critical support for early stage research. Those funds help researchers develop the data they need to apply for larger grants that will take the research all the way to something a patient needs. Those $10,000 blocks of money are hard to come by in new fields such as regenerative medicine, and I realized that our group of Eastern Star members could provide significant assistance to WFIRM," Kibler says.

The campaign left a lasting impression on many OES members, creating "champions for the cause" according to Campbell.

"It changed my life and the lives of others," Reiterman says. "This is absolutely the best philanthropic project that I've ever so proudly been connected to. I'm a total believer."

The relationship with the OES has special meaning for the members of WFIRM as well. OES members from as far away as California and as close as the institute's home in Winston-Salem come for tours to see the research firsthand and to talk with WFIRM students and faculty. The Eastern Star's mission to help others around the world resonates with WFIRM's team, which includes more than 450 researchers from 64 different countries, and their own mission of helping make patients' lives better through regenerative medicine.

Both organizations aim to help others, and it's a tremendous partnership. OES members who ask to be on WFIRM's newsletter list receive regular updates about the institute's work, and now that the original campaign has ended, members in many states (Ohio and North Carolina the most recent) continue to raise funds for the institute as part of their charitable efforts.

"We are deeply honored by the support of this group," says Anthony Atala, MD, the W.H. Boyce Professor, director of WFIRM and chair of urology. "Their commitment to us has and will help provide the resources we need to lead a global transformation from treatments to cures for patients worldwide."

Our campaign slogan says it all, says Chairman Mike Cornell. "WFIRM + OES — Just imagine what we can do together!"