Through one investment, Marcia Farrar, PA '75, is helping the Wake Forest School of Medicine continue to attract the very best and brightest students to health care careers.
Farrar has established the Marcia Pregnall Farrar, PA Family Scholarship Fund to support PA students at the School of Medicine. The way she has funded it will allow her to meet some of the students whose lives and careers will be forever changed by her generosity, while knowing that future Wake Forest PA students will continue to benefit for generations to come.
"My family and I feel very happy about establishing an endowed scholarship for PA students," says Farrar, who chose to have the scholarship awarded to students who demonstrate financial need. "It reflects our values well."
Helping Students Today and Tomorrow
To fund the Farrar scholarship, she will begin making annual gifts to the endowment before she reaches age 70½, with a portion of her donation being designated for an annual award to a current PA student. This current award allows her to meet and communicate with her scholar this year. Farrar also looks forward to seeing her scholarship recipients when returning for PA gatherings.
Once she reaches 70½, her scholarship will be funded through IRA Required Minimum Distributions that will provide a tax advantage as well.
She has named the Farrar PA Scholarship as the sole beneficiary of her IRA in her estate plan, which will permanently endow the scholarship and ensure that it will continue to benefit PA students—and the many patients those students will care for during their careers—in perpetuity.
Gift Acknowledges Deep Family Ties
Wake Forest and the School of Medicine were meaningful places for Farrar to support because of deep family ties.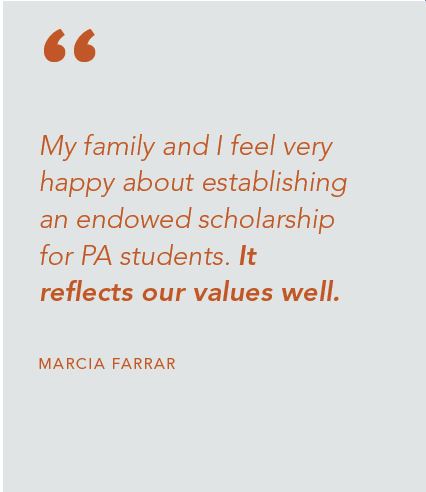 In addition to graduating from the PA Program, Farrar is a 1974 graduate of Wake Forest University, and she participated in a program that let her earn both bachelor's and PA degrees in just five years.
After completing the PA Program, Farrar worked as a PA for 10 years, in practices of general surgery and cardiothoracic surgery. Though she stopped working in 1985, she maintained continuous NCCPA certification for 42 years until becoming a PA-C emeritus in 2019, and she keeps her California PA license active through ongoing continuing medical education activities.
Farrar's sisters, Mary Ann Pregnall Lamb and Elaine Pregnall Cuthrell, and Farrar's daughter, Katie, are all Wake Forest graduates. Lamb also graduated from the Medical Technology Program in 1972, and Farrar's husband, David J. Farrar, PhD, was an assistant professor in the Department of Physiology and Pharmacology at the School of Medicine in the late 1970s. Daughter Katie has become a PA as well, and is currently working in the field of critical care.
Supporting the PA Program
The funding of the scholarship coincides with the PA Program's 50th anniversary and its latest national ranking. U.S. News and World Report ranked the program seventh in the nation in its Graduate School Rankings for 2020, up from ninth in the previous survey.
The program, led by Chair L. Gail Curtis, MPAS, PA-C '81, associate professor and chair of PA Studies, began in 1969 and features small-group learning complemented by instruction in basic sciences, pharmacology and evidence-based medicine focused on real patient medical conditions. Students learn through real-life cases, with a focus on primary health care delivery.
"As our PA Program celebrates its golden anniversary, scholarship support has never been more important," says Curtis. "Because of Marcia Farrar's generosity and the way she has chosen to give, the Farrar Scholarship will help both current students and those in future generations in our program."
The program now includes approximately 90 PA students who study on campuses in Winston-Salem and at Appalachian State University in Boone.
Thanks to Farrar's planned gift, future Farrar Scholars will be able to earn a Wake Forest PA master's degree with less concern about their educational debt.