The Brian Piccolo Cancer Fund Drive, a fundraising initiative produced and coordinated entirely by Wake Forest students, has energized the Reynolda campus—and supported cancer research at Wake Forest Baptist—for more than 40 years.
Students established the Piccolo Fund Drive in 1980 in memory of the former Demon Deacon and NFL football star whose professional career was cut short. Piccolo died in June 1970 at age 26 from embryonal cell carcinoma, an aggressive form of germ cell testicular cancer.
Inspiring Millions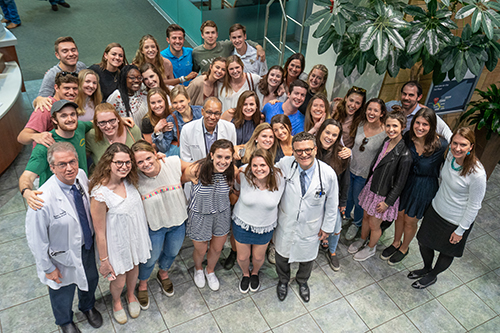 Piccolo was known for his courage and inspiring personality, and his professional and personal achievements have continued to be a powerful source of inspiration for Wake Forest students.
During the fund's inaugural year, students brought in $3,500. The amounts raised have increased every year as community involvement has grown. By 2009, total fundraising surged past the $1 million mark, and that year, the students were awarded the Outstanding Youth/College Achievement Award by the N.C. Triad Chapter of the Association of Fundraising Professionals.
In 2017, the students' annual donation pushed the fund's lifetime total to approximately $3 million. Each year, a group of Wake Forest University students who lead the University's Piccolo Fundraisers visit the Comprehensive Cancer Center to visit with clinicians and researchers and learn more about the impact of their philanthropy.
The money is raised through a series of fun and creative events, and student leaders present their annual contribution during an ACC men's basketball game. Events have included:
Hit the Bricks for Brian
Wake 'N Shake Dance Marathon
Alpha Phi Omega's Pennies for Piccolo
Theta Chi's Birdies for Brian
Phi Mu's Pajamas for Piccolo
Pump Up for Piccolo, a strength event featuring Pi Kappa Alpha and the Wake Forest football team
Pro Humanitate in Action
All proceeds go toward cancer treatment and research at the Comprehensive Cancer Center. In addition to coordinating the fundraisers, Piccolo Fund Drive students tour the Cancer Center each year to become familiar with the scope of clinical and research expertise.
The Piccolo Fund Drive is one effort that connects the undergraduate college community with the Medical Center in a common humanitarian enterprise, putting into action the Wake Forest motto, Pro Humanitate (For Humanity).