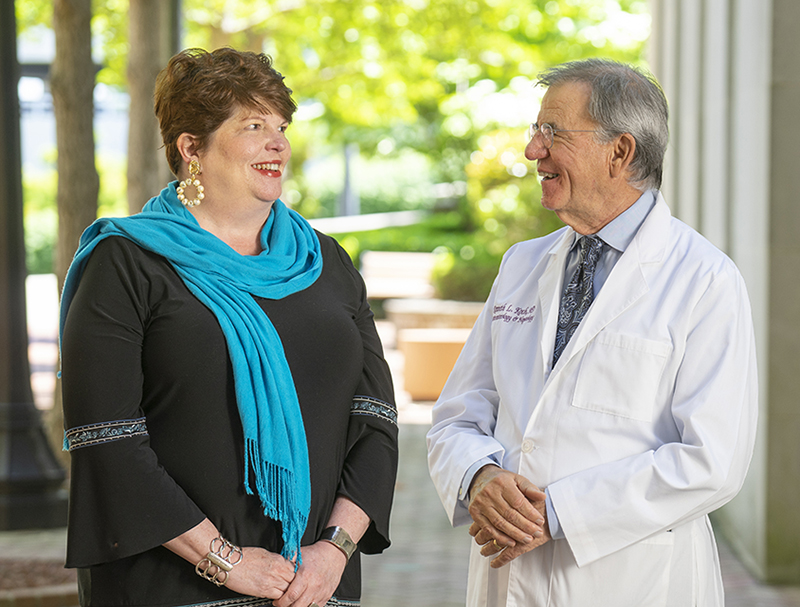 A debilitating and painful paralysis of her stomach led Laura Dotson to gratitude.

Dotson would drive herself from her home in Greensboro, NC, to Wake Forest Baptist Medical Center in Winston-Salem two or three times a week seeking emergency care for severe dehydration.

"I'm a patient of Dr. Ken Koch," she would say. "I have gastroparesis, and I've been sick 34 times today."

She trusted Koch (pronounced "cook"), a renowned gastroenterologist, because he gave her hope when her stomach stopped working and there was little anyone could do about it. But a caring atmosphere would envelope her even before she reached Koch's office.

"Laura would tell me that she loved to come here because the healing starts at the valet," Koch says. "The point is everybody in the Wake Forest Baptist community can be that person who gives support and hope."

Grateful for the care, Dotson is raising money to support Koch's research into the mechanisms and treatments of nausea.

"Everybody wants to be heard, especially when they don't feel well," says Dotson. "Dr. Koch heard me, and he continues to hear me."
A Paralyzed Digestive System
Following gall bladder surgery at another hospital in 2005, Dotson developed gastroparesis, which prevents the stomach's muscles from moving food to the intestines, where the body absorbs nutrients. Food remains in the stomach, undigested.

After running tests to confirm Dotson's situation, her gastroenterologist in Greensboro told her, "I'm sending you to Ken Koch at Wake Forest Baptist. You have a paralyzed stomach, and this is his whole life's work."

"We can diagnose, but we can't always treat these conditions perfectly," says Koch, who is principal investigator of the Gastroparesis Clinical Research Consortium, funded by the National Institutes of Health. Wake Forest Baptist is one of six centers in the national consortium. "At least the patient can appreciate that we've got some understanding. As we go through tests and get answers, the patient begins to feel less hopeless."

He told Dotson that, although there is no cure for gastroparesis, research continues.
A Miraculous Change
Month after month, Dotson continued to struggle and lose weight, and Koch encouraged alternative approaches to managing the discomfort.

"Sometimes we don't know what sets you off on this course, and we don't know what may bring you back, especially when standard medications don't work," Koch says. "I sometimes send people to acupuncture and alternative medicine clinics. I will do what it takes to help this unremitting nausea condition. Nobody appreciates how bad it is unless you have it."

One day in 2007, everything changed. During a craniosacral massage, which Dotson sought to provide some relief, she and her masseuse felt a "spark" in her stomach. Her digestive system began to function again.

"Something happened that brought that energy back," Dotson says. "Dr. Koch said, 'That's wonderful!' How I wish that would happen for everybody who has this. I don't know what it was, but I'm grateful for it."

She slowly began to resume a regular diet. After regaining her health, she wanted to help others facing the same dire condition and the physician who had stood by her.
A Book, An App and Fundraising
Dotson saw potential in a one-page handout Koch would give patients as an eating guide. Building on that concept, they are collaborating on what Dotson playfully calls a "Koch book" and an accompanying website and app that combines his advice with recipes she learned on her own to help comfort patients suffering with any nausea-inducing condition. She also plans to include holistic advice on coping mechanisms, nutritional information and shopping lists.

Dotson was responsible for cultivating a partnership between Wake Forest Baptist and Ethan Allen, where she worked as an interior designer, to support the GI Fund. The fund supports research and education for medical students, residents and gastroenterology fellows, and provides seed money for early stage nausea research projects.

Wake Forest Baptist employees get a one-time 25% discount off any new item at Ethan Allen, and 2% of the entire sale's proceeds are directed to the fund. Wake Forest Baptist employees also can refer customers to Ethan Allen, and 2% of any of those sales go to the fund. The program runs through Dec. 31, 2020.

"We at Ethan Allen are proud to support this important cause and hope to bring awareness to the good work Dr. Koch and the Wake Forest Baptist Health team are doing," says Dawn Harris, Southeast Coastal Region managing director for Ethan Allen Retail Inc.

At Koch's encouragement, the book that he and Dotson are creating will also include Dotson's personal story.

"Dr. Koch says, 'Tell your story.' I wouldn't have my story without him. It's our story," she says. "He healed me. Because he gave me hope."