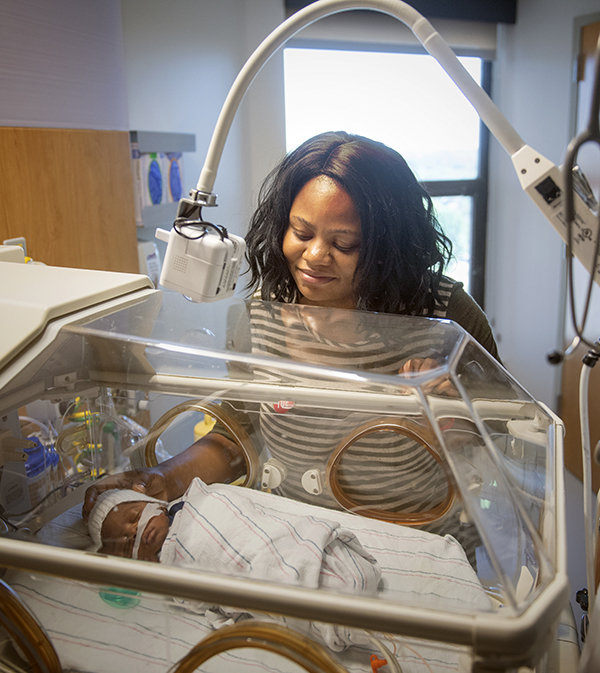 For 36 of Brenner Children's smallest patients, July 2 was moving day, as staff helped move babies from the old Neonatal Intensive Care Unit (NICU) into the new Dale and Karen Sisel NICU.
Karen Kiger, RN, who has worked as a nurse at Wake Forest Baptist Health for 42 years, was part of the team who moved the first baby into the new space. In all, nearly 250 employees worked together to plan and execute the big move.
"A large, multidisciplinary team collaborated to ensure the safety of these infants as we moved into the new Sisel NICU," said Heather Freeman, DNP, RN, CPN, NE-BC, director of nursing for Brenner Children's. She said staff from various departments, including nursing, clinical equipment, information technology services, nursing informatics, security and environmental services, helped move all of the patients quickly and carefully.
For Heath Earley, MHA, BSN, RN, NE-BC, director of nursing for pediatric critical care at Brenner Children's, moving into a new NICU was "a dream come true."
"The teamwork and coordination from the first patient to the last patient moved was amazing to witness," he said. "I'm honored to be part of the Brenner team and such a spectacular, state-of-the-art unit that helps bring patients and families together for their NICU stay."
Before the opening of the new Dale and Karen Sisel NICU, the previous Brenner Children's NICU had cared for almost 10,000 babies and their families since 1996.