One evening in 2018, Alice Ford was eating dinner and watching television when suddenly she couldn't see half of the screen. She turned to her husband and could only see the left half of his face. She called her ophthalmologist, thinking she was having vision problems, and was told to go to nearby Catawba Valley Medical Center in Hickory, N.C., immediately.

Emergency room physicians at Catawba Valley, which is a member of Wake Forest Baptist Health's Telestroke Network, diagnosed Ford as having an isolated stroke. Her physicians used a robot electronically linked to a Wake Forest Baptist neurologist to discuss treatment options. Within three hours of her first symptoms, Ford was given the clot-busting drug called tissue plaminogen activator (tPA), which, when taken in time, has proven effective for improving outcomes and limiting damage after ischemic stroke.

One week after surviving the episode, Ford described the experience of having physicians working remotely with advanced technology to provide care as having saved her life.

Options for providing medical care through telehealth—visiting a medical provider by phone or video—have grown in recent months. Among the lasting changes that the COVID-19 pandemic may bring to many facets of life is a new understanding and comfort level with telehealth.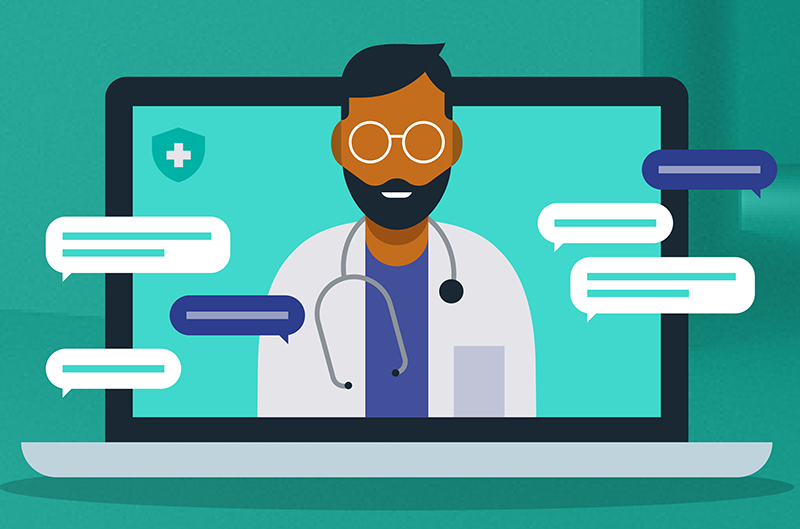 Expanding Telehealth
Wake Forest Baptist and other health systems across the country moved to expand telehealth options in late winter 2020 as the COVID-19 pandemic began to spread. According to Kevin P. High, MD, two major issues drove that expansion: people's fears of an in-person appointment amid COVID, and changes in the Health Insurance Portability and Accountability Act (HIPAA) that made video and phone visits easier.

High, president of Wake Forest Baptist Health system, says certain HIPAA regulations were relaxed to allow health systems to use tools such as FaceTime to conduct a medical video visit. Reimbursements to medical providers also were scaled to make telehealth visits more equivalent to clinic visits. High estimates that telehealth options could help in 50% to 60% of patient visits.

"I think patients feeling more comfortable with video visits now is something that may last, especially if we can make the process seamless by having them click a link to have a video visit with their doctor," he says.

In particular, telehealth has the potential to impact rural health, which is a priority of the new Atrium Health, formed through a partnership between Atrium Health, Wake Forest Baptist Health and Wake Forest University that was announced in October 2020.

Combined, the new Atrium Health enterprise provides 50% more Medicaid services than any other provider in North Carolina and is committed to eliminating disparities in care, including rural-urban and racial disparity divides in care quality. The new Atrium provides more than $5 million each day in charity care and other benefits to the community, making affordable, accessible, quality care available for all, regardless of a person's income, ZIP code or the color of their skin.
Telestroke Network: A Success Story
Wake Forest Baptist's Telestroke Network is a highly successful example of telehealth. Established in 2009, the network reached a milestone in 2020 when it treated its 10,000th patient. It now includes 21 hospitals across North Carolina.

The network provides around-the-clock access to expert stroke care for patients in smaller communities. Emergency department physicians at community hospitals within the network receive on-demand consultation with a Wake Forest Baptist stroke neurologist by using a special mobile robot unit, equipped with video conferencing, located at each of the community hospitals.

Through the efforts of the Telestroke physicians and staff at Wake Forest Baptist and the clinicians at the network's community hospitals, 40% of patients seen have received tPA and more than 60% of patients have been able to receive the care they need while remaining at their local hospital.

"I cannot overstate how essential this service is to so many small hospitals across North Carolina," says Amy Guzik, MD, associate professor of neurology and director of Telestroke Services for Wake Forest Baptist. "This program has helped improve stroke care beyond the tPA window and has provided the infrastructure to allow many hospitals to achieve Primary Stroke Center certification from the Joint Commission."

Primary Stroke Center Certification recognizes hospitals that meet standards to support better outcomes for stroke care.

Cardiovascular Care: A Natural Extension
The Telestroke Network's success gives the health system a strong base on which to build and address rural health equity.

A recent $1.2 million grant from the U.S. Health Resources and Services Administration (HRSA) is helping improve rural cardiovascular care in Wilkes County. The funding will allow Wake Forest Baptist to expand its telehealth services by connecting the health system's emergency care and cardiovascular experts virtually and in real-time with staff at Wilkes EMS, Wilkes County Health Department's Public Health Community Clinic (PHCC) and the emergency department at Wake Forest Baptist Health Wilkes Medical Center.

Telehealth capabilities make it possible for Wake Forest Baptist's clinicians to help Wilkes EMS paramedics quickly classify patients based on EKG readings, vital signs and risk scores, and assist with treatment and transportation decisions.

"The goal is to improve rural health equity and outcomes for patients by using telehealth to bring new, leading-edge cardiovascular care to communities throughout Wilkes County," says Simon Mahler, MD, MS, professor of emergency medicine. "Our health system already operates a wide-reaching telestroke network for emergency departments across rural North Carolina, including Wilkes Medical Center, so expanding our telehealth program to improve rural cardiovascular care is a natural extension of that work."
Going Beyond Telehealth to Reach Rural Areas
Telehealth can help address rural health needs but isn't the only answer. Additional resources are needed to bring the most advanced care, such as clinical trials, to rural settings.

Despite advances in cancer treatment, disparities in cancer outcomes are prevalent, especially for minority, underserved and rural populations. Researchers at Wake Forest Baptist's Comprehensive Cancer Center are using a recent $775,000 grant from the National Cancer Institute (NCI) to address those disparities.

The Comprehensive Cancer Center was one of only eight NCI-designated cancer centers in the country to receive the grant, entitled CATCH-UP (Create Access to Targeted Cancer Therapy for Underserved Populations). It will allow Wake Forest Baptist to offer and enroll patients in select trials through the NCI's Experimental Therapeutics Clinical Trials Network (ETCTN), a collaboration of industry, academic institutions and researchers to evaluate early phase therapeutic clinical trials in areas of unmet medical needs.

With the grant, researchers are opening an initial 17 ETCTN clinical trials across a spectrum of cancer types such as lung, leukemia, breast, gastric and lymphoma. It's a start, but the grant is for one year only, and funding such initiatives that address rural health, as well as minority and underserved populations, will require sustained funding that is not yet in place.
How You Can Help
If you are interested in supporting initiatives in telehealth or in advancing our work in rural health, please contact the Office of Philanthropy and Alumni Relations at 336-716-4589 or philanthropy@wakehealth.edu.