Being first-time parents is a big change for anyone. Being first-time parents of twins comes with even more changes—and challenges. Mark and Jessica Hanson were happy to take it all. Shortly after their twins, Annabelle and Dominik, were born on May 19, 2011, they discovered Annabelle had cystic fibrosis—a challenge neither had prepared for.
Cystic fibrosis is a progressive, genetic disease that causes persistent lung infections and limits the ability to breathe over time. A rare disease, there are about 1,000 new cases of cystic fibrosis diagnosed each year, according to the Cystic Fibrosis Foundation. Not only does it affect the lungs, it also often damages the pancreas, liver and other vital organs.
Soon, the Hansons would come to know the medical professionals at Brenner Children's and Wake Forest Baptist Health as extended family who provide hope through care and research.
A Surprise Diagnosis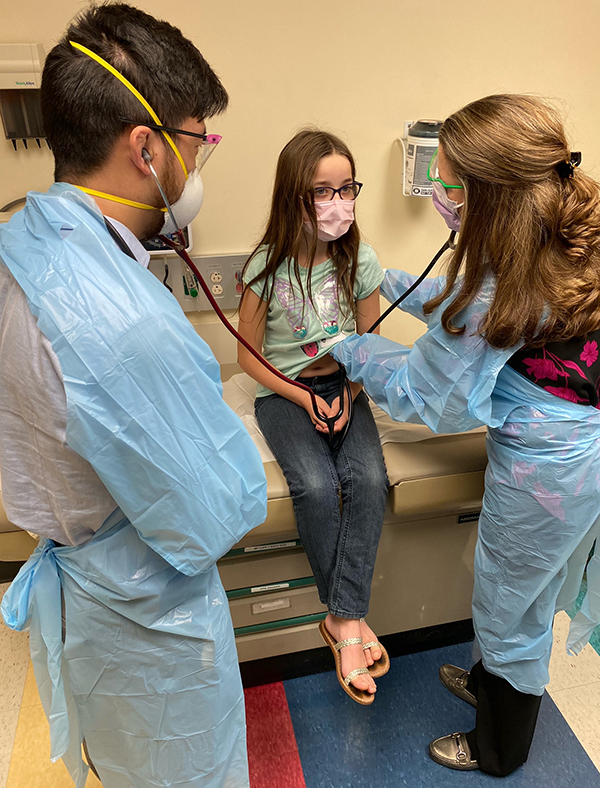 Jessica had some complications from the birth of the twins, and since the twins were premature, they were smaller (Dominik was about 6 pounds, Annabelle about 5 pounds), meaning there were lots of pediatrician appointments for the family in the beginning.
Mark recalls both babies seeming healthy and happy, but in retrospect it was obvious that Dominik was thriving and Annabelle was not. "She wasn't gaining weight," he says. "I look back at baby pictures and now say 'How did we not see?'" The Monday after Father's Day in 2011, the Hansons received a call from Brenner Children's asking them to bring in Annabelle.
After that initial call, things moved quickly. Mark says it felt like a whirlwind.
"We were flooded with information, but I was just in a stupor," he recalls. The parents were assigned a social worker and a nutritionist, both of whom quickly became valuable resources. Special enzymes were given to Annabelle to help her digest breast milk fortified with formula, and within days she was gaining weight.
Groundbreaking Treatments
Mark recalls Karl H. Karlson Jr., MD, now professor emeritus of pediatrics who was Annabelle's first doctor, telling them if she had to be born with this disease, at least she had arrived at a time when modern medicine was making treatment breakthroughs. For example, in the 1950s, children diagnosed with CF were not expected to live long enough to attend elementary school. But now, the median predicted age of survival for people with CF born in 2017 is close to 46.
Annabelle also had access to a leading children's hospital.
The first breakthrough the Hansons were excited about was the drug Orkambi. Annabelle had already spent several tough periods in the hospital, being treated for infections in her lungs. Orkambi was a promising treatment, but it had only been approved for children 6 and up. Mark says, "One of most wonderful days was when she turned 6 in 2017. I had joked with the doctor, 'You know I will be waiting in your parking spot to get our prescription when these medicines get approved for her age!'"
Dr. Karlson's words continued to ring true as a clinical trial for the drug Symdeko began at Wake Forest Baptist. Holly C. Hanes, MD, clinical associate professor who specializes in pediatric pulmonology, asked if the Hansons wanted to participate.
The family took advantage of the opportunity, and Annabelle was enrolled in the study for a year and a half. The trials were successful, and Symdeko was approved for her age group. Still, the Hansons continue to look ahead. In June, another drug—Trikafta—received approval from the Food and Drug Administration for use in children ages 6 to 12.
A Very Active Girl
Today, Annabelle is a head taller than her older-by-four-minutes brother Dominik, who is a carrier but does not have cystic fibrosis. A second son, Isaac, joined the Hanson family in 2016. While Annabelle continues to go to the cystic fibrosis clinics quarterly, take handfuls of pills with each meal, and undergo at least 1.5 hours of intense airway clearance therapy daily, the active 10-year-old is very much a kid. She likes to run, hike, play soccer, swim, play with her brothers and be a Girl Scout. She even ran a 27-minute 5K.
"One of the best things she can do is be active," Mark says. "The pandemic has put some restrictions on us with regards to staying in organized activities, but we've done our best to find creative ways to keep her moving."
The Hansons realize how philanthropic investments over many years helped medicine make the advances that now benefit Annabelle and others afflicted with cystic fibrosis. They also are extremely grateful to the physicians, nurses and staff at Brenner Children's and Wake Forest Baptist Health.
"Our care team at Wake Forest Baptist has been wonderful to our family and so many others," Mark says. "I am confident our daughter is alive and thriving because of her care team. We feel like the doctors are all part of our extended family."
Mark feels that they are lucky to have had access to Brenner. "We live in the right place. When I talk about her care at Brenner, I say there's no better place to be."