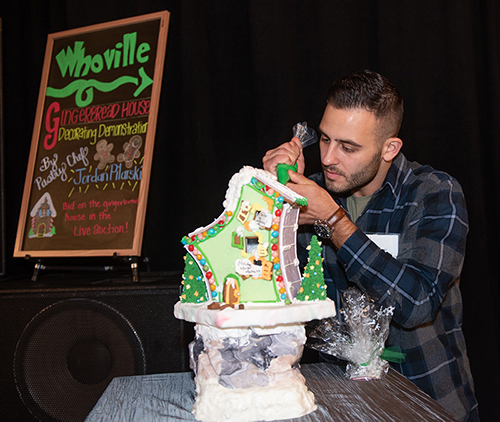 Cheers! is an annual fundraising event that features gourmet cuisine from Winston-Salem's finest restaurants and caterers, along with wine and craft beers. Since 2005, the event has raised more than $1 million for Brenner Children's.
Funds raised at this year's Cheers!, held Nov. 16 at The Millennium Center in downtown Winston-Salem, were designated to support the campaign to build a new NICU.
Cheers! 2018 Corporate Sponsors
Grand Reserve Sponsors
Berkshire Hathaway HomeServices Carolinas Realty
Sommelier Sponsors
Kaplan Early Learning Company
Mercedes-Benz of Winston-Salem
Connoisseur Sponsors
Blanco Tackabery
Hanesbrands
North State Environmental
Pinnacle Financial Partners
Enthusiast Sponsors
Bayada Pediatrics
Delta Dental of North Carolina
DeVCon Resources
Home Real Estate Company, Inc.
Law Offices of Timothy D. Welborn
Marzano Asset Management
NK Patent Law, PLLC
River's Edge Design
Salem Smiles
Shugart Enterprises
Wildfire Marketing
Kristen Zaks, President
Margot Beach
Mimi Bennett
Ann Campbell Brown
Laurie Clark
Kate Clegg
Evan Dunnagan
Cabell Edmundson
Lynn Eisenberg
Jennifer Grosswald
Denise Hickman
Shelley Holden
Sara Hollan
Catherine Hornaday
Erika Hubbard
Angie Koonin
Amy Lawson
Angel Mitchell
Beth Overman
Ellen Parsley
Stacy Petronzio
Lee Saunders
Virginia Sutton
Margaret Townsend
Jean Waugh
Amy White
Alissa Williams
Amy Yates