Richard Janeway, MD, emeritus professor of Neurology, dean and executive vice president of health system affairs, died March 17 after a long illness. He was 86.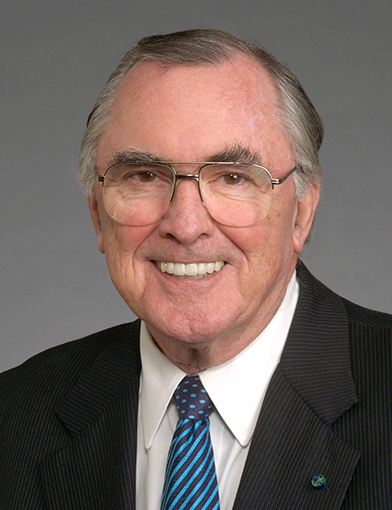 "Dr. Janeway's impact on our health system, our faculty, our students and our community was substantial," said Julie Ann Freischlag, MD, Wake Forest Baptist's chief executive officer and dean of the Wake Forest School of Medicine. "He was an energetic, determined and dynamic visionary who oversaw great change and improvements at Wake Forest Baptist."
He also led the largest physical expansion program in the history of the medical center, a $200 million project that includes the tower that bears his name. He also laid the foundation for Wake Forest Innovation Quarter, a 200-acre, mixed-use center in downtown Winston-Salem focusing on the biomedical and material sciences and information technology fields.
Janeway graduated from Colgate University, earned a medical degree from the University of Pennsylvania School of Medicine, and completed internships at Penn and the School of Aerospace Medicine. He also served as a director of base medical services and as a flight surgeon in the U.S. Air Force.
He joined Wake Forest Baptist in 1963 as a National Institutes of Health trainee and as a resident in Neurology. He was named professor of Neurology and dean of the School of Medicine in 1971. His additional titles and roles included vice president for health affairs (1983-90), executive dean (1985-94) and executive vice president for health affairs (1990-97).
His numerous honors included the Medallion of Merit, Wake Forest University's highest award, in 2000. His community leadership roles included serving as a board member or chair of the Winston-Salem/Forsyth County Board of Education, Winston-Salem State University, the Rotary Club, BB&T Corp., the Greater Winston-Salem Chamber of Commerce, Senior Services and the Winston-Salem Foundation.
"I've always thought that one of my major jobs is to help people's dreams come true," Janeway once told an interviewer. "It doesn't really matter how many buildings you build. It makes a difference as to how successful the programs are and how successfully the people within your organization develop within their careers and as human beings."
Janeway was preceded in death by his first wife of 54 years, Katherine Janeway. They helped start the Cancer Patient Support Program at Wake Forest Baptist.
Surviving family members include his wife, Nancy, his three children, his 10 grandchildren and one great-grandchild, and Nancy's son. The family requested that contributions be made to the Richard Janeway, MD, Scholarship Fund at the Wake Forest School of Medicine or the charity of one's choice.