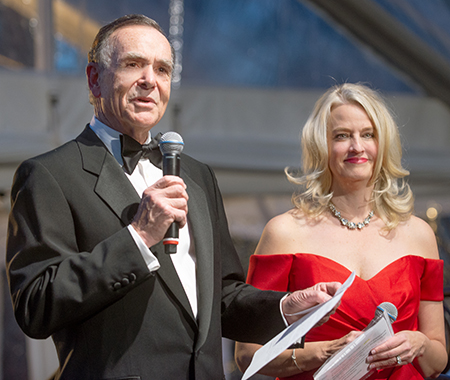 This year's Winterlark fundraiser to support the Cancer Patient Support Program at Wake Forest Baptist Health's Comprehensive Cancer Center was the most successful in its history, raising more than $329,000.
Phil and Patti Shugart, 2019 Winterlark chairs, speak at fundraiserCapital Bank served as presenting sponsor for the 36th annual event, held Feb. 9 at Graylyn International Conference Center. Patti and Phil Shugart of Winston-Salem chaired the event. More than 500 people attended, and more than 100 members of the community volunteered to help stage the gala.
The 37th annual Winterlark is scheduled for Feb. 8, 2020, at Graylyn and will be chaired by Cathy and Chris Pace. Allegacy Federal Credit Union will serve as presenting sponsor for the next three years.
The Cancer Patient Support Program provides counseling, patient education, support groups and other services to the community free of charge. It has been widely recognized as a best practices model for cancer centers nationwide.