Melanie Adams, director of Food and Nutrition Services, was among 14 leaders from across Atrium Health Wake Forest Baptist who gathered to paint a special message of appreciation for the tireless work of their teams during the COVID-19 pandemic.
Philanthropic Efforts Bring New Surgical Technology to Lexington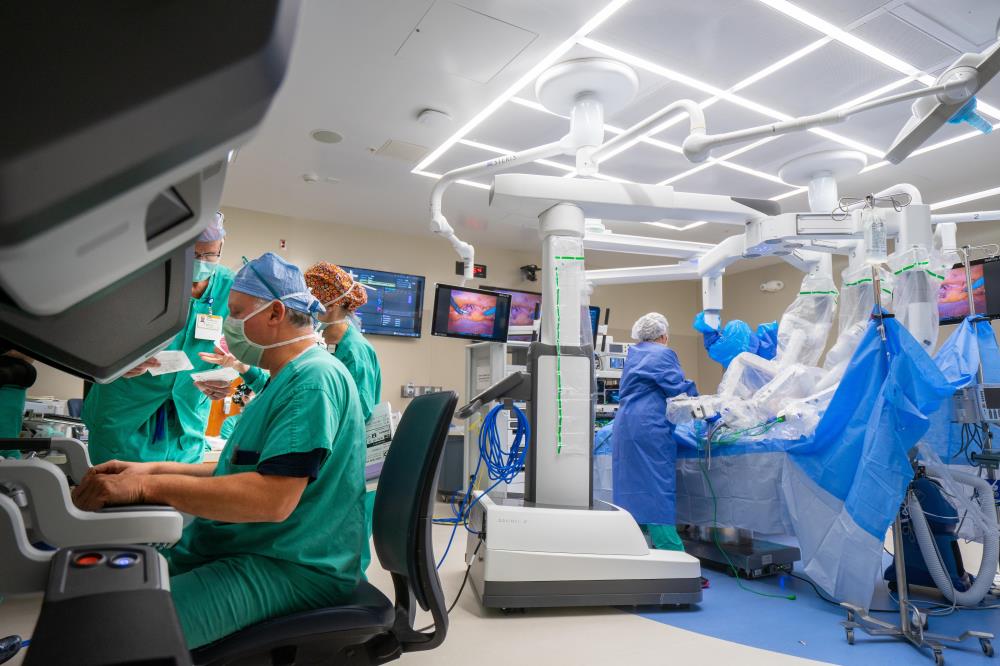 Donors from the community and leaders of Lexington Medical Center (LMC) again have collaborated to bring the latest medical advancement to their community, in the form of the da Vinci robotic surgery technology.
The robotic system allows surgeons to use minimally invasive techniques to perform a variety of procedures in adults and children, including general, cardiothoracic, urological and many other surgeries. For patients, the technology will mean more state-of-the-art care can be provided closer to home, with smaller incisions, less pain and quicker recovery times.
Proceeds from the annual Sportsman's Saturday fundraising event in October 2021 were combined with a $500,000 donation from the Lexington Medical Center Foundation to help acquire the technology. The event was held as a livestream this year for the first time.
"It's amazing we were able to secure something like this in a small community setting," said urologist Alex Caillat, MD. "We're extremely lucky to have this kind of cutting-edge technology in Lexington."
The da Vinci represents the next step in surgical technology, beyond traditional open surgery and minimally invasive laparoscopic surgery.
"Laparoscopy is like operating with chop sticks," Caillat explained. "With the da Vinci, you have endo-wrist technology that allows us to miniaturize our hands to the size of a fingernail inside the body. It allows you to do complex maneuvers in small places."
LMC President Bill James called the addition a "huge advancement for Lexington Medical Center and the entire area." He said this latest technology augments the resources that are already in place at LMC.
"Our community's generosity has made a difference for years and years, most recently with our large capital campaign for our surgical facility expansion," James said. "Now donations from the community are helping to provide state-of-the-art minimally invasive surgical technology."
Generous Donors, Sponsors Keep Sun & Stars Shining in High Point
For the second straight year, due to COVID-19 concerns, the annual Sun & Stars Signature Event was canceled. Still, thanks to the generosity of those who planned to attend and the event's dedicated sponsors, more than $125,000 was contributed to the planned renovation of the Esther R. Culp Women's Center at High Point Medical Center.
The event, which is organized through the High Point Regional Health Foundation, is held each September featuring live music, food and entertainment. This year's event was on track to sell out before the decision was made across the health system in late summer to not host in-person events. Sponsors and many who planned to attend still chose to donate, resulting in the funds that will benefit the Culp Center.
The Culp Center is dedicated to supporting women's health. It offers a convenient, inviting environment and an experienced and service-oriented staff. It includes private waiting rooms, spacious rooms for classes and meetings, and direct access to the childbirth suite and newborn nursery. The staff includes a certified lactation consultant, certified mammography technicians, nurse educators and instructors.
This year's Sun & Stars volunteer committee was chaired by Julie Delgaudio with members Caryl Adams, Chris Amos, Nancy Bowman, Tammy Nagem, Amy Smith, Ken Smith and Don Webb.
Wilkes Joins Innovative COVID-19 Trial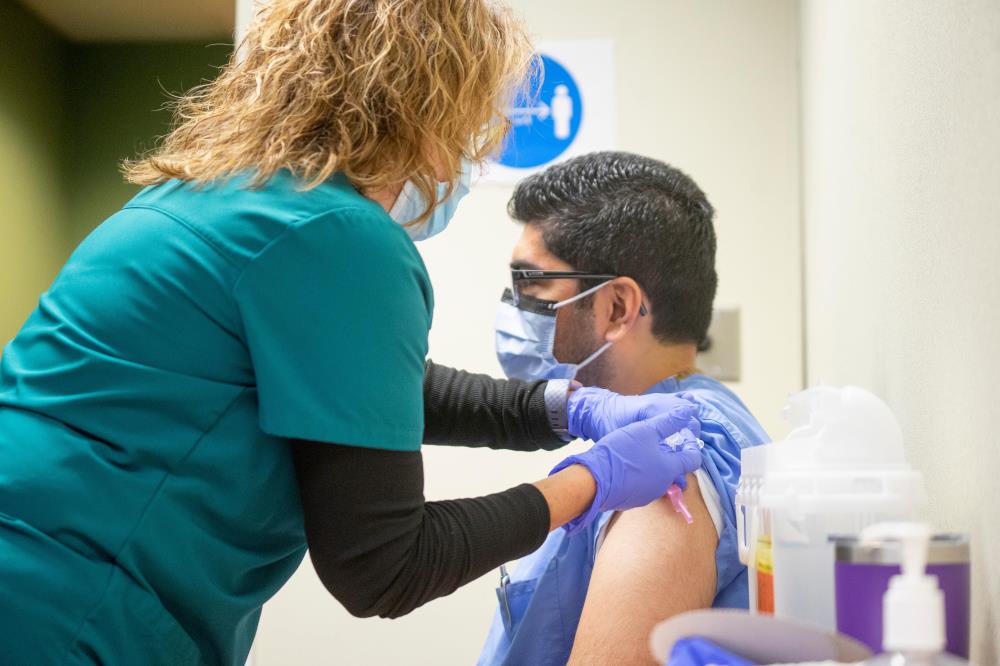 Wilkes Medical Center is taking part in a phase II clinical trial designed to quickly determine the effectiveness of promising drugs that can potentially target the negative effects of the COVID-19 virus in critically ill patients and improve their outcomes.
The study is one example of clinical trials being extended to hospitals throughout Atrium Health Wake Forest Baptist.
"There is a desire across the country to bring clinical trials to community hospitals, and we are thrilled to provide this opportunity to our patients and our community," said Harsh Barot, MD, hospital medicine physician and sub- investigator of the clinical trial at Wilkes Medical Center.
D. Clark Files, MD, associate professor and the study's co-principal investigator, said the researchers were pleased to extend this opportunity to Wilkes and its patients.
"Being part of an academic health system such as ours allows Wilkes Medical Center to participate in large-scale clinical trials and gives more patients access to the most advanced treatments, regardless of where they live," Files said.
Davie to Form Philanthropic Advisory Group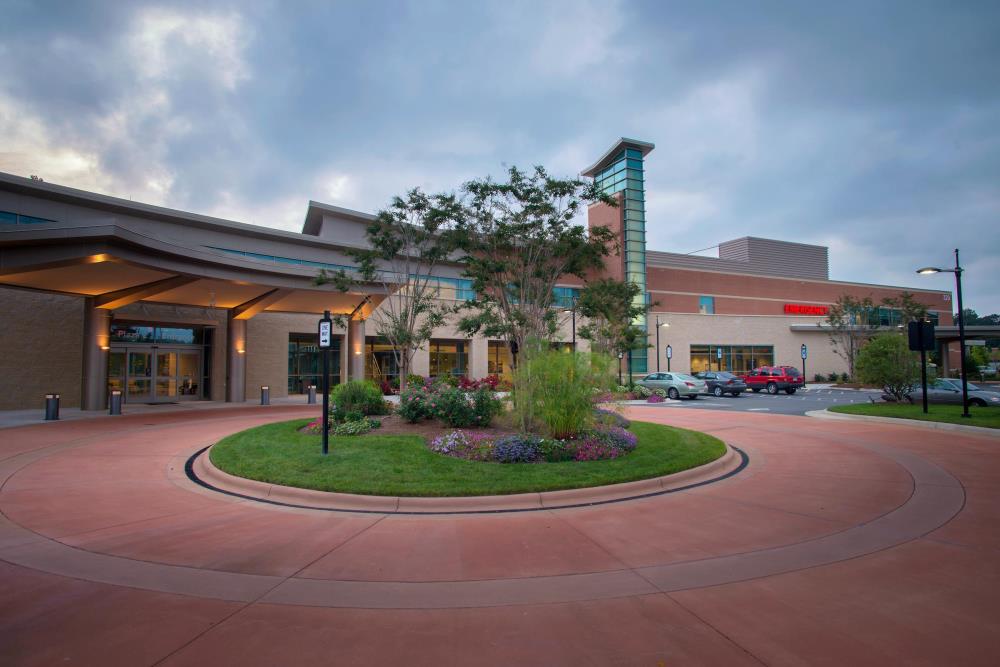 The Davie Medical Center Board has approved the formation of a Philanthropic Advisory Group, the first of its kind dedicated to supporting Davie Medical Center (DMC).
The advisory group will consist of up to 11 elected members from the community's business, professional and civic leadership who will coordinate their work with Atrium Health Wake Forest Baptist's Office of Philanthropy and Alumni Relations.
"Our community has been so supportive of Davie Medical Center over the years," said DMC President Chad Brown, MBA, MHA, FACHE. "We are thankful for the trust our community and patients have placed in us for their health care needs, and we want to honor that by continuing to invest in, and enhance, the health care services we offer locally. This new advisory group will be a vital part of our future growth and will help ensure Davie Medical Center continues to offer the high-quality, high-touch care that our community has come to expect."
The group will assume a leadership role in securing critical philanthropic investments to support, benefit and carry out the purposes of DMC; raise the medical center's visibility; and advise on and assist with philanthropic institutional plans for DMC's development.
"The people of Davie County have tremendous and heartfelt pride in their Medical Center," said Ken Peacock, a member of the DMC Board and the Bermuda Run Town Council who retired after more than 30 years as a professor and chancellor at Appalachian State University. "As Atrium Health Wake Forest Baptist continues to grow and develop leading-edge medical programs and facilities, it is important to the residents to have an opportunity to express their pride in and appreciation for the professional staff at Davie Medical Center. Davie residents want to continue to feel that the Atrium Health Wake Forest Baptist facility on Highway 801 is theirs. Investing in Davie is the way; Davie people are thoughtful and generous. Now is the time."